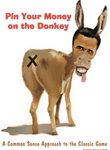 Our ongoing economic troubles have presented a new business opportunity from Wild Bill's Posters in Middletown, CT. Just a week before the recent ASD show in Las Vegas, company founder, Bill Ziegler, came up with, "Pin Your Money on the Donkey," a new twist on an old party game that's drawing huge attention.
"The game comes with a poster showing a donkey with an 'X' on his rear-end, and a familiar face up front," Ziegler says. "It also comes with ten pieces of 'funny money,' ranging from a $3 'Hillary' bill, to a $6 'Bill Clinton' bill, all the way up to a trillion dollar bill featuring President Obama." Party guests are encouraged to wear a blindfold, be spun around, and then try to, "stick it to the donkey, just like Congress is sticking it to us," Ziegler says with a laugh.
Wild Bill reports the game, "sold very well," at the ASD show, as customers told him they found the concept, "something new and exciting." It wholesales for $60 a dozen, is shipped with the posters rolled, and also comes with a small display case and an advertising poster. Minimum order is one dozen. The suggested retail price ranges from $10 to $15 each.
Wild Bill's name may be familiar to independent retailers, as his company is also the sole East Coast distributor for the Funko BobbleHead Doll line. That lineup includes perennial favorites like Betty Boop, Star Wars and Star Trek, and also features new entries including President Obama, Sarah Palin, and eight characters from "The Wizard of Oz." Pricing for all of the above varies, but for example, the Betty Boop bobble head wholesales for $6.50 for a lot of 48. Other prices are available on request.
For more information:
Wild Bill's Posters
1003 Newfield Street (Route 3)
Middletown, CT 06457
Tel: 860-635-1226
Website: wildbillsonline.com