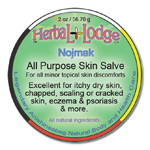 HERBAL LODGE creates a long line of plant based medicines based on Native American Indian tradition. The line includes Minaghin, which is a muscle and joint salve that is said to relieve and eliminate pain. It has an olive oil and beeswax base, and includes comfrey, plantain and burdock root. Other medicines in the line include Nojmak, which is a skin salve to treat itches, bites, psoriasis and other skin conditions, and Ginee, which are made of rose hips.
Minaghin and Nojmak come in one and two ounce tins. The smaller unit wholesales for $4, and the suggested retail price is $6 to $7. The larger tins wholesale for $7, and suggested retail ranges from $10 and $11. Nojmak is also offered in lip balm form, as is Ginee. The lip balm units wholesale for $2, and the suggested retail price is $3 to $3.50.
The minimum order is $75, and can include an assortment of Herbal Lodge products. On orders of $100 or more, retailers receive a free display unit that can hold all of the medicines.
For more information:
Herbal Lodge
11557 Pickerel Lake Road
Petoskey, MI 49770
Toll Free: 888-245-5887
Tel.: 906-322-2675
Website: www.herballodge.com