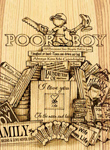 Think your customers have something to say? Poor Boy Woodworks can help. Poor Boy Woodworks specializes in producing wood plaques with a huge variety of sayings. All of the plaques are custom produced in the Poor Boy woodworking shop, made from American materials and produced in America.
The Poor Boy product line-up includes the perennially popular shelf-sitter plaques, as well as new products lines like a line of beach themed plaques, which have been doing well since they were introduced. "We have about 500 different designs," says Matt Hunter, CEO of Poor Boy. "We come out with new products lines year after year."
Based in Saginaw, Michigan, Poor Boy has rapidly expanded since its founding more than a decade ago. Today, Poor Boy has thirty-four employees and ships wood plaques all over the country.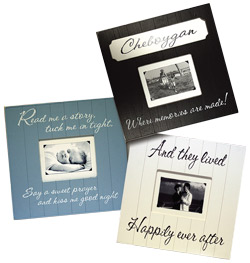 Poor Boy is very focused on helping its retail customers sell more plaques, according to Hunter. The company features a low minimum order and offers free displays to make it easier to merchandise plaques. "The displays help bring a lot more sales," Hunter said. "A display can show dozen of designs in one small spot. When customers start using our displays, they sell a lot more plaques."
Poor Boy also offers rapid order fulfillment, with same-day or next-day shipping most of the year. The company can also handle some custom work and designs, depending on your needs. All of Poor Boy's plaques are made on solid wood, with no particleboard or other cheap materials. The company's products are all made in the USA.
How to Buy Products
Poor Boy products can be ordered directly from the company and on the company's website. The company is also present at major tradeshows. Poor Boy offers a low minimum order and free point-of-sale displays. Call the company for more information about wholesale ordering at (989) 799-9440. The company's products boast a high mark-up. Although pricing varies depending on the product line—wall signs versus shelf-sitters, for example—many products boast a 200 or 300 percent mark-up. The shelf-sitters, for example, wholesale at $3.50/unit and feature a suggested retail price of $8.99 to $9.99 each.