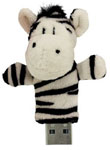 FlashPals® are USB flash drives wrapped in plush animal characters that represent endangered species. The flash drives have eight GB of storage, an aluminum core and key chains, so they easily attach to backpacks, pocketbooks and more. The soft, charming designs allow people to drop, throw or play with them while keeping data files safe. Sold by Cure For a Niche, the company's mission is to protect both data and animals. The flash drives come pre-loaded with an ebook that has information about threatened species and biodiversity, or the variation of life.
Giraffe, Smokey the Bear & more
FlashPals are presently available in four characters: Jack the Giraffe, representing the 80,000 giraffes left in the wild; Zena the Zebra, embodying 2,500 Grevy's zebras left in the wild; Elise the Elephant, symbolizing the remaining 32,000 Asian elephants in the wild, and Benny the Bear, representing the 50,000 grizzly bears. "We just became an official licensee of Smokey the Bear, and we will be coming out with that design next year," says Dustin Stienstra, VP of the company. "We will be introducing other new lines at that time as well."

FlashPals USB flash drives are mascots for biodiversity, Stienstra stresses, and characterize the need to save the more than 21,000 endangered species. "We are official partners of the Giraffe Conservation Foundation in Namibia, Africa, and a portion of sales is donated to the organization." FlashPals wholesale for $14.95, and the MSRP is $29.95.
Product evolution
FlashPals were created by Dustin's brother, Doug Stienstra, CEO. "Humans have a unique role, with great responsibility to make sure that this world is here in the future with life still on it. Humans have a capacity to love and think critically. It is our love for the world and for the life on it that must inspire us to save the beautiful, incredible and unique," Doug Stienstra explains. Many people are not even aware of the issue, he adds. That was the case with Stienstra, who says the concept for FlashPals evolved into saving endangered species from his love for animals and an idea for a gift. Stienstra was a student at the University of Iowa, and his girlfriend asked for a cute flash drive for her birthday. Unable to find one, he combined a fuzzy finger puppet and a flash drive to create it. His girlfriend and her friends loved it, and asked him to make more. Stienstra knew he was on to something, and decided to start a company that reflected his desire to run a socially responsible business.
Buying details
The minimum order for FlashPals is 20 units. Individual units are packaged to hang on racks, and Cure For a Niche is in the process of creating point of purchase displays, available by the end of the year.
Cure For a Niche LLC / FlashPals
8760 A Research Blvd. #302
Austin, TX 78758
Tel.: 512-650-8872
Website: www.flashpals.com