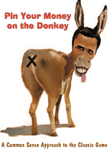 With the elections right around the corner, Wild Bill's Posters in Middletown, CT, has all the fun political favors for any party. Over a year ago, company founder, Bill Ziegler, marketed, "Pin Your Money on the Donkey," a new twist on an old party game that has continued to garner huge attention. "The game comes with a poster showing a donkey with an 'X' on its rear end, and a familiar political face up front," Ziegler says. "It also comes with ten pieces of 'funny money,' ranging from a $3 'Hillary' bill, to a $6 'Bill Clinton' bill, all the way up to a trillion dollar bill featuring President Obama." Party guests are encouraged to wear a blindfold, be spun around, and then try to, "stick it to the donkey, just like Congress is sticking it to us," Ziegler says with a laugh.
Nostalgia Sells in Any Economy Year Round
Wild Bill reports the game, "sold very well," at previous ASD shows, as customers told him they found the concept, "new and exciting." A typical order wholesales for $60 a dozen, is shipped with the posters rolled, and also comes with a small display case and an advertising poster. The suggested retail ranges from $10 to $15 each.
Wild Bill's name may be familiar to independent retailers, as his company is also the sole East Coast distributor for the Funko BobbleHead Doll line. The lineup includes perennial favorites like Betty Boop, Star Wars and Star Trek, as well as new entries including President Obama, Sarah Palin, and eight characters from "The Wizard of Oz." Pricing varies, but a popular piece, the Betty Boop bobblehead, wholesales for $6.50 for a lot of 48. Other prices are available on request. Wild Bill's is also the leader in nostalgic show print posters and sepia print merchandise.
Ziegler is showcasing his nostalgic merchandise at the Las Vegas ASD Show, March 25 to 28 at Booth SL4181. Wild Bill's has spent 20 years selling posters, prints, buttons and many other 60s and 70s items. Ziegler says, "In this economy, nostalgia and memories still sell."
For more information:
Wild Bill's Posters
1003 Newfield Street (Route 3)
Middletown, CT 06457
Tel.: 860-635-1226
Website: www.wildbillsonline.com