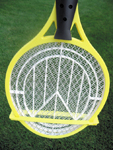 Mars Distributing Inc. offers two different Insect Zappers, to wipe out those pesky critters that either sting or bite you or try to share your food. The original ZAP-1 kills house flies, may flies, deer and horse flies, mosquitoes, yellow jacket bees, hornets and wasps, spiders, cockroaches, centipedes, and moths. This unit has 1,500 volts of power, with protective screens. It is 21 1/2 inches long, has a 8.5″x10″ head, weighs 8 ounces and uses two D size batteries.
The original ZAP-1 does not kill the smallest of the insects, so the company came out with the TIZ model. This new model completely vaporizes fruit flies, gnats, no seeums, flees, bed bugs, mosquitoes, and small spiders, and leaves nothing to clean up on the wall or the unit itself. Even a Mosquito that is filled with blood turns into a puff of smoke when zapped, and leaves no stain on the wall, window, or when camping. No stains on the tent or camper. This unit has 2,400 volts of power, with criss-cross protective screens that are twice the thickness of the original. Its new design gives complete support to the guards, to prevent bending. Even though it has a warning label stating, do not to touch the head while it is on, if it is touched even with fingertips, there is NO shock. For an insect, just one leg or a part of his body coming between the protective screen and the center Electrode screen causes a snap noise and a little flash of light, and he is done for.
The TIZ model is the same size as the original unit, but weighs 1 1/2 ounces more because of the better protection. The TIZ model also uses Two D size batteries, for months of zapping power. There are three zapping areas on the new model: the two sides of the entire head, and at the very end of the head there is a zapping area in a 1/4 inch restricted opening on the end of the racket head. This unit is designed so you can Zap the insects in corners, or directly up on the ceiling, or down on the floor or under cabinets or appliances. Just listen for the snap sound and you know if you are killing bugs.
The TIZ model also has an LED light that shines on the head, so mosquitoes are attracted and zapped inside of a car, camper, tent or house in total darkness. If the light is left on while swinging the racket at night, it is easy to see what objects are near you and to see where you are walking. This unit will also drain down completely of an electrical charge within 8 seconds after the unit is turned off for additional safety.
The ZAP-1 sells wholesale for $132 per case of 50 ($2.65ea +.32 shipping). Customers can sell this unit on the Internet, as well as locally. The TIZ model sells wholesale for $272 per case of 50 ($5.45ea + .32 shipping). T.V., radio, newspaper, flee markets, and stores are OK, but is not supplied for Internet sales.
When five cases or more are ordered, Mars pays the shipping. For wholesale resellers, Mars will dropship directly to your customers, using your charge card for payment. You get paid directly from your customer, while Mars pays the shipping if you send a total of 5 cases or more. To sell this way, all retailers need is a sample to show the buyer, and quote the selling price. Mars tests every product before shipment, so retailers can have confidence that an excellent product will be delivered. In the event there is a problem, Mars will replace the unit.
For more information:
Mars Distributing Inc.
19035 W. Bluemound Road
Brookfield, WI 53045
Toll Free: 800-301-2077
Website: www.suspendease.com/portablebugkillers.html