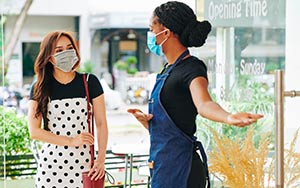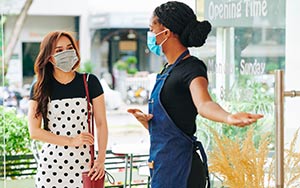 Statistics as of the end of June revealed that over 311 million total vaccines have been administered to Americans, and that number continues to climb each day. As more residents get vaccinated, additional states are beginning to lift their COVID-19 restrictions to match the CDC's current guidelines regarding face masks and social distancing for fully vaccinated Americans. Going back to a pre-pandemic normal is looking to arrive sooner than we think.
Most states have fully reopened brick-and-mortar retailers with no more restrictions, while some have plans to fully reopen within the next month or two, depending on if COVID-19 cases continue to drop. For now, the majority of states are following CDC guidelines and allowing those who are fully vaccinated to no longer have to wear face masks while in public and indoor settings.
Face Mask Restrictions are Lifted
The states who are following the CDC guidelines on face masks include Connecticut, California, D.C., Kentucky, Illinois, Louisiana, Maine, Maryland, Massachusetts, Michigan, Minnesota, New Jersey, North Dakota, Ohio, Pennsylvania, Rhode Island, South Carolina, Virginia, Washington, West Virginia, and Wisconsin. These states allow businesses to choose to continue to enforce face masks for both employees and customers, and require masks in certain settings. Regardless of CDC guidelines, Alabama, Florida, Hawaii, North Carolina, and Texas have completely lifted mask mandates for all residents.
While face masks have not been completely lifted in the following states, they are strongly recommended in public spaces: Indiana, Nebraska, Utah, and Wyoming. Pennsylvania and Oregon are waiting for 70 percent of their population to be fully vaccinated before they completely lift mask restrictions.
Businesses Increasing Indoor Capacity
Among the states that have entirely lifted their indoor capacity for retail businesses include California, Connecticut, D.C., Florida, Georgia, Louisiana, Maine, Maryland, Massachusetts, Nebraska, New Jersey, North Carolina, Pennsylvania, Vermont, Virginia, Texas, West Virginia, and Wyoming. Even though not all states have completely lifted capacity limitations for retailers, Delaware, Illinois, and Michigan have increased capacity to 50 percent, and Wisconsin businesses can operate at 25 percent. Indiana, New York, and Washington are creeping on the side of caution, with different capacity restrictions now in place in each county based on the severity of active COVID cases.
Social Distancing Protocols Are Lifted
California, Georgia, Maine, Massachusetts, North Carolina, Virginia, and Wisconsin are among the only states that have completely lifted all social distancing restrictions. Businesses are still encouraged to be cautious about the spread of the virus by frequently disinfecting high touch surfaces.