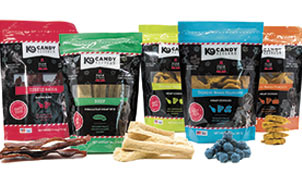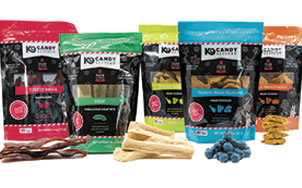 Made with love from farm to floor, K9 Candy Kitchen offers delicious hemp dog treats and oils to keep our furry friends feeling their best. Each of their treats has its own unique flavor profile and offers a different experience for dogs, depending on their behaviors and sizes.
K9 Candy Kitchen (www.k9candykitchen.com) offers dog cookies, chews, and a tincture, all made with 100 percent organic full-spectrum hemp oil and sustainably-sourced ingredients. Their Turkey Bacon Bark is one of the company's best-sellers. It is super easy to break apart and space out for smaller dogs throughout the day, or just to let a big dog indulge all in one bite. This treat is made from organic turkey thighs that are chopped and formed, along with organic full-spectrum hemp oil.
Pet Love to Pet Treats
K9 Candy Kitchen is a family-run business that was created in order to provide a sustainable and healthy alternative for hemp dog treats. Co-founder Nicole Trowe teamed up with her sister and fellow animal lover, Emily, and got to work developing a formula for a pet treat worth drooling over. After sourcing the highest quality ingredients they could find, they then baked the treats at low temperatures to preserve the integrity of the nutrients and the hemp oil extract they contained.
Transparency From Farm-to-Floor
The small company started out as "CBDawgs," and eventually they changed their name to K9 Candy Kitchen. As the brand grew, so did the Trowe sisters' approach to formulating products with a responsible and transparent approach. Keeping the health and safety of pets in mind, they work hard to find the right ingredients, partnering with farms and suppliers they can trust. All of their products are tested, with documentation published regularly, in order to stay transparent and keep customers informed of the dosages.
K9 Candy Kitchen prides themselves on their relationships with local farmers and suppliers, as well as their commitment to using 100 percent organic hemp grown through certified organic and regenerative farming practices. They have also extended their commitment to animals, www.wesatradeshow.com people, and the planet as members of 1% for the Planet, a global organization that exists to ensure our planet and future generations thrive.
K9 Candy Kitchen
Please contact Dave Vaille for
wholesale pricing at 530-308-8779
www.k9candykitchen.com