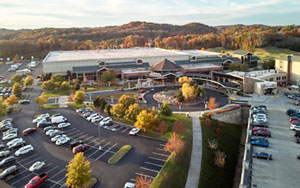 by Clarion Events, Inc.
The Clarion Events & Souvenir portfolio returned to face-to-face events last month with the 55th annual Smoky Mountain Gift Show — known as the nation's oldest and most respected event for the resort, gift and souvenir industry. The event took place November 4-7 in Gatlinburg, Tennessee, and represented half of Tennessee Market Week, which also includes the International Gift Exposition in the Smokies (IGES).
The focus was on creating a safe environment for thousands of buyers and vendors to get back to business during a busy, four days of order writing, new products and new connections. The feedback from both exhibitors and attendees post-event was overwhelmingly positive regarding the return to live shows, the need for the events, and the business that got done on the show floor.
Keith Fotta, Managing Partner at Go Fun Face! commented, "We are a fairly new company, and the Smoky Mountain Gift Show was our first show three years ago. I can say without hesitation that this year's show was one of the best shows we have ever done! That's saying a lot considering we do about eight shows a year. Everyone comes to buy, and our orders far exceeded our expectations. Without a doubt we will be at the Smoky Mountain Gift Show again next year."
Products You Need
This year, the show floor had leading vendors who featured new and best-selling souvenir, novelty, and trend items, apparel and clothing, jewelry, nature and wildlife products, green and conservation merchandise, home accessories, lifestyle products, gourmet foods section, lake, mountain and lodge decor, Made in America products, zootique products, collegiate merchandise, games, puzzles and toys, holidays and seasonal items, licensed products, custom logo products, and promotional items and personalized products.
Vendors had the opportunity to showcase products, meet with buyers, share their show specials, and take orders in-person once again. Several vendors participated in the Product Preview Area: a high-trafficked area for vendors to showcase their newest designs as well as to be voted on by buyers for the best new product and best Made in America product. Recherche Furnishings was voted for the best new product at the Smoky Mountain Gift Show and Amish Farm Soap was voted for best Made in America product.
Show Director Christina Bell commented, "We were so thrilled to be the meeting place for the gift, souvenir, and resort community to reconnect after such an unprecedented year. We talk with our customers year-round and heard over and over the need and desire to return to a face-to-face setting which is what encouraged us to find every way to meet in-person this year. Our goal was to support the industry after a year where many had faced different hardships and provide a safe, productive, and fun meeting space for them to get back to business. It is so wonderful to hear many of the success stories following the event and we hope to continue to support our gift and souvenir family year-round."
MATCH! Program
To further facilitate new connections, the Smoky Mountain Gift Show hosted the MATCH! program for the third consecutive year. This program sets up one-to-one meetings between top buyers and exhibitors to help drive order writing and ROI. Jim Deberry with Mr. Crabs & Family Entertainment Shows said, "The MATCH! program is a fantastic program for us as a company to be able to fit down, see, and learn about new products from companies, have in-depth discussions, and build new relationships. Whether you're new or seasoned to the Smoky Mountain Gift Show, the MATCH! program will definitely add to your experience."
In addition to driving business forward, the top priority was ensuring the health and safety of everyone involved. The Smoky Mountain Gift Show event team and management worked closely with the convention center, service providers, hotels, travel partners and state and local authorities to implement control measures to assure strict adherence to every health and safety standard. The show followed government guidelines issued by the CDC, state, and local officials with regards to COVID-19 protocols and precautions and enforced a comprehensive 'We've Got Your Covered' safety plan, which included physical distancing, enhanced cleaning, mandatory facial coverings, daily temperature checks, and more.
Continued Success
The Smoky Mountain Gift Show is known for its hospitality and was primed to be the location for the industry to reconnect. While some of the offerings were modified in line with the 'We've Got Your Covered' safety promise, the event was still able to offer many of the hallmark benefits of the show, including daily coffee and happy hours and several giveaways such as sponsored goody bags, Mountain Money Madness, Gatlinburg VIP Attraction Pass, and prize wheel with gifts. The team looks forward to 2021 where these events will return along with other staples of the event including the annual Show Party.
Lisa Berry (Glosson), Vice President for the Clarion Events Gift & Souvenir Portfolio concluded, "We cannot wait to return to Gatlinburg in 2021 for the 56th annual Smoky Mountain Gift Show. We are already missing our gift and souvenir family and cannot wait to see them again soon! We look forward to providing more opportunities to meet face-to-face as well as virtually throughout the year.The 2021 Smoky Mountain Gift Show will be taking place and continuing the excitement and positivity from this year's event on November 10-13 in Gatlinburg, Tennessee. Clarion Events & Souvenir Family of Events also offers a 24/7 online resource for the industry called THE MARKETPLACE as an accompaniment to the face-to-face trade shows — featuring more than 4,000 products, hundreds of vendors, education, live demos, and networking. For more information, visit www.smokymtngiftshow.com.