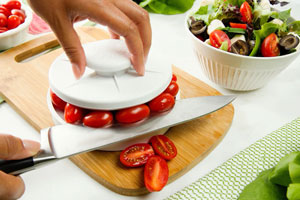 Slicing up those tiny fruits and vegetables can be annoying and time consuming — not to mention dangerous. After getting fed up with this aggravating task, this husband and wife duo came up with the Rapid Slicer to make slicing fruits and veggies fast, safe and easy.
A Multi-Purpose Kitchen Tool
The Rapid Slicer is simply the fastest and safest way to slice those pesky, roll-y fruits and vegetables. What started as a way to make slicing produce safe and easy has evolved into a multi-purpose tool that provides a safe and stable platform for holding a variety of foods while users cut food in half. The Rapid Slicer can stabilize a variety of foods, including shrimp, chicken, meats, and even bagels. Customer reviews show that they also use it as a press to drain spinach or other shredded veggies. Goodbye green stained towels and colanders with spinach stuck in the holes!
This kitchen tool is made in the USA and built with high quality, BPA free, FDA approved food grade material. Safety features ensure that the base grips securely to any counter top and hands are safely out of harm's way when slicing foods. So bring on that pint of tomatoes, slippery chicken breast, or crusty bagel — the Rapid Slicer has you covered.
Making the News
There are other tomato slicers on the market where users can load up eight or even ten tomatoes to be easily sliced, but they simply do not compare to the Rapid Slicer. This product allows users to slice 20 – 24 tomatoes at one time, and it can also be used to cut a variety of other foods. The Rapid Slicer works so well that it was a finalist at the 2018 Global Innovation Awards. It has also been featured on QVC, the Today Show, and Good Morning America, as well as many other publications and TV shows.
If you are interested in carrying Rapid Slicer products in your store, the company has an easy ordering process through Faire where for a limited time, retailers can receive $200 worth of credit for this line as well as free shipping for a year if it is your first order placed through the wholesale platform, net 60 terms on all orders for brick and mortar stores, and get free returns on your first order. Simply go to rapidslicer.faire.com/user/sign-up to create a wholesale account.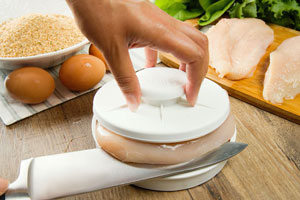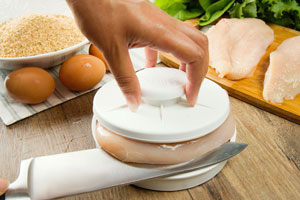 If you prefer not to take advantage of this offer through the company's distribution partner, Faire.com, but are still interested in opening a wholesale account with them, please contact Cindy Fox at 203-610-3673.
The Rapid Slicer®
rapidslicer.com