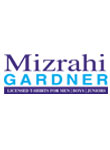 If your consumers are in the market for printed T-shirts, Mizrahi & Gardner has got your back. Operating as jobbers continuously since 1969, Mizrahi & Gardner has reinvented itself many times over the years, according to company owner Peter Gardner. Today, the company specializes in printed T-shirts.
Mizrahi & Gardner has a long-standing relationship with one of the world's largest printed T-shirt manufacturers for overruns and extra stock. The result is an unparalleled inventory of printed T-shirts in every category for every age group, Gardner says. "Our supplier has 20 or 25 licenses with all types of companies," Gardner relates. "So we get a lot of their licensed products, plus all the generic T-shirts."
The company's most popular T-shirts are the boy's humor shirts, as well as printed shirts with skulls and other trendy symbols. Overall, Gardner says that his company offers T-shirts in categories including movies and entertainment, jokes and humor, resort wear for older gentlemen, street and urban wear, videogames, car and motorcycle themed, and many others.
"We even have shirts for older gentlemen showing a resort or golf theme," he says. "There are prints for everybody." All of the company's T-shirts are cotton or cotton blended. "This year, we've seen a lot of vintage designs, they are very trendy," Gardner advises. "But our number one seller are the humor T-shirts. We have them in every size from toddler to plus-size for men." And because Mizrahi & Gardner works with a major supplier, the quality of the T-shirts and artwork is second to none.
Although the company specializes in printed T-shirts, Gardner calls his company "opportunistic buyers," so at any given time the inventory could include whatever great bargains company buyers could find. The best way to find out what they have in stock is to contact the company directly. "We've been in business for a long time, and not a lot of jobbers can say that," Gardner relates. "We have a fantastic customer base, with very loyal customers. About 70 percent of our business is reorders."
Ordering and pricing
Mizrahi & Gardner attends two OFFPRICE shows in Las Vegas every year, where Gardner is confident that no one can match their inventory and prices for printed T-shirts. The company's products can also be ordered over the phone. Prospective buyers can find out what's in stock when they call.
Mizrahi & Gardner has a minimum wholesale order of six dozen case packs per category. Pricing is competitive, and Gardner says that retailers will "at least make keystone" pricing on printed T-shirts. For branded and popular T-shirts, he says many retailers mark up beyond keystone. "A lot of our customers return because our pricing is good," Gardner says. "It's possible to have excess mark-up with many of our T-shirts."
Mizrahi-Gardner
417 W. Pico Blvd.
Los Angeles, CA 90015
Toll Free: 213-749-7629