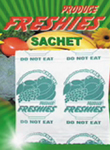 Studies show that nearly one quarter of all fresh produce purchased in America is thrown away because it goes bad. That amounts to almost $650 per year wasted. However, thanks to a new product on the market, Produce Freshies, fruits and vegetables can be preserved at home far longer. In actuality, it's nothing new at all, because these little packets of potassium permanganate have been used commercially since the mid 1980s.
"People don't know it, but if you go into the back rooms of your grocery stores or florists, they're using potassium permanganate," explains Brenda Patterson of Design-Accents, the company that markets Produce Freshies. "All of your growers, shippers, your packers, have been using this for years. So the idea was, if they know it works and it preserves their fruits and vegetables before they put it out for people to purchase, how come the people who purchase the produce can't use the same thing once they get it home, just on a smaller scale?" While researching a bug-repellent product they were interested in marketing, Patterson and her husband accidentally stumbled upon the company that manufactures potassium permanganate packets for all the commercial entities in the world. They visited the factory and made the decision to take on the product, instead of the bug-repellent.
Produce Freshies come in a three pack, with distributors buying them for $1.95 per pack, which then generally retail for $4 to $6. Minimum order is one case, which contains 48 three packs. Customers can also buy 24 and 36 packs on the website, ProduceFreshies.com.
For more information:
Design-Accents, LLC
6641 S. Kings Ranch Rd., Ste. 5, PMP 182
Gold Canyon, AZ 85218
Tel.: 888-828-6264
Website: www.producefreshies.com