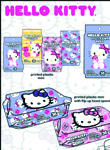 After the SARS epidemic in 2003, Vincent Ashkenazi saw a profitable opportunity to ease the growing germ phobia with sanitary wipes. With portable electronics here to stay, he quickly found a niche in the market, and began developing a safe and convenient pre-moistened towelette called PURE Wipes to, clean cell phones and other portable electronic devices such as MP3 players, video games and more. Now, CEO of PURE Products, Ashkenazi adds, "The product design features a unique textured cloth that deep cleans various nooks and crannies, hinges and other hard to reach places where germs can build up." Easily marketed as an impulse buy, PURE Wipes come in resealable packs of 36 and are available for a little less than a dollar wholesale and retail for keystone at $1.99. Retailers are only required to purchase one pallet, which carries 81 packs.
PURE Wipes: Impulse Buy for Impulse Cleaning
While the four offered fragrances of pomegranate, ocean breeze, lemon and unscented may fool you, a powerful cleaning solution is present and mixed with disinfectant and other bactericidal ingredients. The ingredients are calibrated specifically to be 100 percent safe on cell phones and other sensitive electronics. Ashkenazi notes, "In addition to removing and preventing bacteria build-up, PURE Wipes' solution also provides clearer viewing of messages, pictures, videos and web content with a clean screen."
Electronics has proven to be a successful niche, but Ashkenazi did not stop there. Wipes for all different applications have been made available for cleaning and disinfecting, including for surfaces such as wood and stainless steel. And while fragrances like pomegranate and ocean breeze add a little pizzazz to the product, Ashkenazi says, " We are also getting ready to launch licensed wipes. Our Hello Kitty line will be available this September." To better market the evolving product line, a starter kit is also in production. Retailers can receive a full metal display rack with its own pegs for each pallet purchased as part of the starter kit. "It's about giving as many wipes for the least amount of money as possible. There's no more dirty talk with Pure Wipes," Ashkenazi adds.
For more information:
PURE Products Corporation
PO Box 279
West Long Branch, NJ 07784
Tel.: 917-902-606
Email: victor@pureproductscorp.com
Website: www.pureproductscorp.com