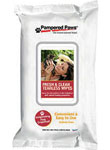 Budpak Inc., founded in 1994, has launched a new pet care line branded Pampered Paws®. The six items presently available are Oatmeal Tearless Shampoo, Shed Control Shampoo, Flea & Tick Shampoo, Waterless Spray Shampoo, Deodorizing Spray, and Fresh & Clean Tearless Wipes. "Our mission has always been to offer retailers inexpensive options to higher priced goods, such as creams, ointments and medicinal products. Now we have introduced high quality pet care products at affordable prices," says Gregg Singer, EVP. "They contain several essential oils and ingredients that you do not typically find in inexpensive pet care items, such as sea kelp, chamomile oil, aloe vera gel, papaya leaf extract, cedar wood oil, orange oil and panthenol."
Pampered Paws products do not contain harmful chemicals, and each has a pleasant scent. Importantly, the products are 6.7 ounces, about half the size of products generally sold in pet stores. Because the bottles are thinner than competitors' products and take up less room, they are ideally suited to stores that do not have a lot of shelf space, like dollar and convenience stores and smaller retail shops.
Pampered Paws assortment
Pampered Paws Oatmeal Tearless Shampoo is for regular pet cleaning use. This gentle formula contains nourishing ingredients like vanilla and honey, colloidal oatmeal and aloe vera gel.
Pampered Paws Shed Control Shampoo, a shed eliminator for greater coat strength, addresses the number one reason for veterinarian visits.  It is formulated with papaya leaf extract, lemon peel extract, antioxidants, omega 3 fatty acids and rich moisturizers.
Pampered Paws Flea and Tick Shampoo helps get rid of these pesky bugs, while it cleans with essential oils. The natural and mild formula, enriched with Shea butter, is good for both dogs and cats.
Pampered Paws Waterless Spray Shampoo + Leave in Conditioner is a spray on/wipe off, no bath/no rinse shampoo and conditioner, and is a quick and convenient way to clean pets between baths.  It contains panthenol, a derivative of vitamin B5, which adds shine and texture to the coat.
Pampered Paws Deodorizing Spray neutralizes odors and helps keep pets smelling fresh.  It is a great way to keep pets odor free in between baths, and is good for traveling.
Pampered Paws Fresh and Clean Pet Wipes ease the discomfort of skin irritations with natural healing properties. The pH-balanced formula is enriched with moisturizing conditioners such as almond oil extracts.

Buying details
Products are sold at a distributor price of $.99, and the wholesale price is around $1.49 each. Retail is $3.99 to $6.99 per item. Budpak's special offer through the end of January is a 10 percent discount on the minimum order of 96 assorted cases. There are 24 bottles per case. Shipping is free with the minimum order, which can save buyers hundreds of dollars, Singer points out. Products generally ship in one to three business days. Retailers can visit the company's website for product details, and place orders by email or phone. Budpak is currently developing a floor display.
Budpak Inc.
100 North Drive
Ronkonkoma, NY 11779
Toll Free: 800-918-0581
Tel.: 631-648-3370
Website: www.budpakinc.com