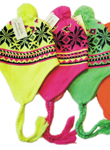 With most of the nation in winter's grip, the folks at Queen Accessory are ready and waiting for a rush of orders for their cold weather lineup. The three year-old company, based on New York's famous Canal Street, is one of the principal suppliers to carts and kiosks for hats, scarves, gloves and whatever else is needed to keep warm. "We're ready to go," says sales rep, Chris Lord. "As soon as that cold wave hits, the phones start ringing." Queen Accessory carries just about everything needed for winter's worst. "We have between 400 and 500 products," Lord says. "We're ready for anything." The company's full line can be seen at its site, canalstop.com. On its "About Us" page, Queen Accessory spells out its mission. "Our business goal is simple. We focus on providing top quality fashion products to our customers by establishing strong partnerships directly with carefully chosen manufacturers." Queen's products are offered at competitive wholesale prices. There is a large selection of products available on the company's site, and new styles arrive almost weekly. Indeed, part of Queen Accessory's success lies in its ability to turn orders around quickly and get customers what they need, when they need it. "We can ship everything within a day, certainly no more than two," Lord says. "We pride ourselves on our strong customer service and attention to detail."
For those ready to plunge into the business and turn a fast profit, Queen Accessory offers two starter kits, so kiosk or cart operators can hit the ground running. "The Silver Starter Kit has everything you need to go," says Lord. "It comes complete with 300 pieces of cashmere-feel scarves in 50 different styles, 60 matching hats, 60 matching trapper hats, 36 matching earmuffs and pairs of gloves, and 36 Pashmina scarves," he adds. The Silver kit wholesales for $2,121, and retailers can anticipate a threefold return, or over $6,000, Lord says. The Gold Starter Kit offers more variety, including 480 pieces of cashmere-feel scarves, 120 matching hats, 120 matching trapper hats, 84 matching earmuffs, 60 matching pairs of gloves, and 120 Pashmina scarves. "The Gold kit contains nearly 1,000 pieces of merchandise for only $4,011, but it will also bring a threefold return of over $12,000 retail," Lord says. Again, he stresses that fast shipping is part of the deal, although he's not sure how popular he'll be with the UPS deliverymen. "Our starter kits come in multiple boxes," he notes, laughing. "Still, smart retailers will be able to turn that product around in no time."
For kiosk and cart owners that are more comfortable starting off smaller, Queen Accessory only requires a $150 minimum order, and the individual items it carries are also equally competitively priced. For example, the Cashmere-feel scarves wholesale for only $3.50 each, but can fetch up to four times at retail. The company's various trapper hats wholesale for $4 to $5 each, and are going for $17 to $18 retail. Queen Accessory also carries a variety of matching hat and scarf sets, also competitively priced. For those looking for a funkier option, the company carries Navajo Hats, those toppers with the long strings hanging on each side that are popular among the skateboard, snowboard and college set. "I call them dingle-dangle hats," Lord says with a laugh. "They wholesale for only $1.50 each, but kiosk operators are selling them for $5.99, $6.99 and more apiece." The company also carries mannequin heads for displaying the various hats, as well as over a dozen different men's and women's wigs for customers who want to change their look completely. Pricing is available on request, and less expensive foam heads for display purposes are also available. Gloves are always a strong seller, and Queen Accessory has ladies' leather gloves with fleece lining available in black and dark brown. They wholesale for $30 for a pack of 12, or $2.50 a pair, and fetch as much as $10 retail. For those retailers selling jewelry, Queen Accessory also carries three dozen different jewelry display stands to highlight various rings, necklaces and earrings. Prices start at only $7.50.
Registering with Queen Accessory is a simple process, Lord says. "Just enter your basic information along with a password, and be sure to sign up for our newsletter listing the specials," he says. "Then when you return to the site, you can simply log in." Speaking of specials, the company has an entire section at canalstop.com dedicated to unique buys and closeouts, for even more savings. For example, a recent visit found Leather Trooper Trapper hats marked down from $60 to $48 a dozen wholesale, and a 12 pack of flower shaped earmuffs for only $42 a dozen.
The company has just launched a complete line of knit animal hats for little kids, featuring elephants, pigs, dogs, the ever popular sock monkey, and more. "We got some interest from customers, so we decided to expand into this growing market," Lord says. "No matter what the economy does, parents and grandparents always buy something for the little ones in their lives." Interested buyers are advised to call the company for the complete selection and pricing. For cart and kiosk operators looking to take advantage of the cold, Queen Accessory is the place to go. The company has what buyers need, and can ship out as soon as the order is received. "We get a lot of repeat business," Lord says, "and we believe it's due to our competitive prices, fast turnaround and strong customer service." When it comes to retailing, what more could you want?
For more information:
Queen Accessory, Inc.
359 Canal Street
New York, NY 10013
Tel.: 718-821-1092
Website: www.canalstop.com