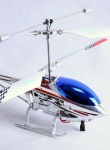 Some kids never outgrow their toys, and that's good news for the folks at The Valour Inc., a wholesale importer and distributor of radio-controlled helicopters, boats, cars, tanks and more. "We began about five years ago as a small business startup," says Hank Ho, manager of sales and service at the company. "We decided to start importing radio-controlled toys, and now we're on the edge of what's popular, or going to be popular," he adds. Judging by recent sales and a successful holiday season, the company has a good finger on the pulse of popularity. Selling primarily to kiosks in malls, The Valour also markets to brick and mortar stores and flea market vendors, and recently started selling to customers that primarily resell over the Internet. "We're getting a lot of exposure from being online," Ho says.
The company sells just radio-controlled products, but it's a lucrative market with a high return. "Our customers can easily enjoy a 200 percent to 300 percent markup," Ho says. "For example, a unit that we might wholesale on average for about $16 will retail for $40 online, and can fetch $50 to $60 in a store." The company carries about 50 different radio-controlled products, and Ho says his current best seller is the whole line of VieFly helicopters. "We're the exclusive distributors of their products," Ho says. "They're growing tremendously in popularity, as they have a very high quality control level, and almost never have problems with their products. They're durable and flexible, and don't snap if they hit something," he adds. Ho also notes that for Internet sales posted on Amazon, VieFly cracked the top 40 this past holiday season. "They're huge," he says simply.
Coming up in the year ahead, Ho sees more features being added to the products. "Everything coming up has additional features. Adding gyroscopes for stability was big last year," he says. "Now everyone wants light switches, four channels, and accelerator switches. As the year progresses we'll see more hobby-grade items come along at almost 'toy' prices."
The Valour requests a minimum order of at least one case, "but we'll try to work with anyone," Ho says. "Our minimum order is usually about $250." The Valour offers same day shipping for orders received before 3 p.m. Central time.
For More Information:
The Valour Inc.
5650 Savoy Lane
Houston, TX 77036
Tel.: 713-781-1500
Website: www.valorsinc.com