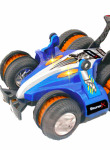 In business since the mid 1980s, Emirimage Corporation boasts an impressive selection of radio-controlled and infra-red toys, especially of the ever-popular car and helicopter varieties. Emirimage is offering a new line of RC and infra-red toys this year, and there are many exciting changes, most notably the addition of gyroscopic functions to the helicopters. Once available only in very expensive, high-end hobby helicopters, this added control ability can now be included at a reasonable price thanks to recent advances in the technology. The gyroscope function works alongside the three different channels of RC control to allow for the most maneuverable RC helicopters yet. The toys carried by Emirimage are all properly approved and certified, and comply with all the rules and regulations that apply to the RC toy industry in the U.S.
"We have very high standards," says Eduardo Perl, president of Emirimage. "We use our own trademarks and copyrights, design our own packaging, and of course we take care that all the inner components are of the best quality. We really have the best quality radio controlled toys on the market right now."
Since there is such a wide variety of items offered, wholesale prices cover a broad spectrum ranging anywhere from $9 up to $200. Further details on wholesale pricing are available at the company website, http://www.emirimage.com. Perl reports that many of his buyers are successful marking up as much as 300 percent, with even the $9 or $10 wholesale-priced items retailing for as much as $30.
There is no fixed minimum order requirement in terms of price, but buyers must order by the box. Each item is packaged in a different quantity per box, depending on the item, so the prices vary.
"We recommend they order a certain amount, but this is because we are recommending a certain kind of assortment to have a good response from the final customers," says Perl. "Usually a standard customer is opening with no less than five to ten boxes, of different styles, and then might be ordering weekly during the year, maybe five, six, seven boxes on average. The last three or four months of the year, the quantities increase dramatically the closer it gets to the holiday season."
Emirimage even offers free DVDs to buyers to use for demonstration purposes, to show off the variation types of RC toys and how they perform.
Contact:
Emirimage Corporation
5269 NW 161 Street
Hialeah, FL 33014
Ph: 786-287-1250
Website: www.emirimage.com