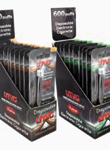 Now with over 500,000 Americans using the e-cigarette (e-cig) and over 21 scientific studies of e-cig constituencies, retailers are well advised to separate fact from fiction about the new technology smokers are using daily. For this reason, CEO of the increasingly sought after Premium E-Cigarette brand, Vitali Servutas, openly supports the efforts of the Tobacco Vapor Electronic Cigarette Association (TVECA), established to provide the media, legislative bodies and those currently using the e-cig with a single industry resource. With over 150,000 customers, Premium E-Cigarette has decided to take its online retailing success and enter the wholesale market, offering a reliable product with consistent margins to brick and mortar retailers.
Largest Selection of E-Cigarettes and Accessories
Co-founder of the United Tobacco Vapor Group (UTVG), Vitali works alongside other industry leaders (Nicholas Van Burren and Ray Story) to provide the industry and its distributors and retailers with the largest selection of e-cigs and accessories under one roof. The UTVG is a one stop shop that provides the most diverse lineup in the e-cig and accessories market, including Premium E-Cigarettes' own brand of disposable e-cigs called Flavor Vapes. Flavor Vapes, with its new cutting edge technology and sleek design, has made this e-cig line well known in the industry. Flavor Vapes delivers a consistent product, 100 percent guaranteed, with a great taste in eight flavors including traditional tobacco and menthol, as well as blueberry, strawberry and coffee.
The disposables come in a 10 count cardboard display, which can then be showcased in larger acrylic or cardboard displays. "We have a print shop in our facility, so we are able to offer a wide range of POS material," adds Servutas. "Merchants can request any size posters, banners, brochures and more." All of this is an added benefit to the already low wholesale cost of under $10, which provides for a 40 percent retail markup.
As for the rest of Premium E-Cigarette's business, the wholesaler is also a supplier of rechargeable e-cigs with custom colors and flavors. "Premium E-Cigarettes offers eight different starter kits. The kits come with single or dual battery options. Custom design kits can also be ordered," says Servutas. Also, perfecting vaping liquid flavors since 2008, the company offers 20 premium flavors in refill cartridges, including traditional tobacco and menthol, as well as chocolate, clove, Irish Cream, grape and more. "These liquids are available in multiple strengths, including 24 mg, 16 mg, 11 mg, 6 mg and 0 mg for those social smokers," adds Servutas.
Servutas believes retailers and smokers need to look for a company they can trust, a business that follows through on guarantees and fulfilling warranties, and carries liability insurance. To learn more about Premium E-Cigarette, its disposables and its reliable service, Vitali invites attendees of the ASD Las Vegas show in March to visit Booths 4453 through 4456.
For more information:
Premium E-Cigarette/UTVG
552 Central Drive, Suite 101
Virginia Beach, VA 23454
Toll Free: 866-242-9210
Website: www.premiumecigarette.com