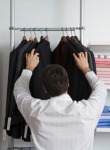 The U.S. economy probably grew at a faster pace in the fourth quarter, driven by the biggest gain in consumer spending in four years, economists say a Commerce Department report will show. Gross domestic product rose at a 3.5 percent annual pace, up from a 2.6 percent rate in the previous three months, according to the median estimate of 67 economists surveyed by Bloomberg News. The survey comes ahead of a report from Commerce that is also expected to show business investment remained a pillar of the economic rebound, while home prices decreased.
"We'll see a very solid quarter from the consumer," Josh Shapiro, chief U.S. economist at Maria Fiorini Ramirez Inc. in New York, tells Bloomberg. "Companies have a lot of cash and are seeing final demand picking up, so we look forward to another solid year in capital spending," he adds.
Consumer spending, which accounts for about 70 percent of the economy, increased at a 4 percent annual pace, the best showing since the last quarter of 2006, according to the survey median.
The full story can be accessed HERE.