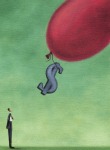 The cost of living in the U.S. climbed more than forecast in February, led by the highest food prices since 2008 and rising fuel costs. The consumer-price index increased 0.5 percent, the most since June 2009, figures from the Labor Department showed. Economists had projected a 0.4 percent gain, according to the median forecast in a Bloomberg News survey. Excluding volatile food and fuel costs, the so-called core gauge rose 0.2 percent for a second month, also more than estimated.
Retailers are facing rising raw materials costs, which may erode profits and prompt businesses to try to recoup some of the expenses. While bigger grocery and fuel bills also strain household budgets, Federal Reserve policy makers said the upward pressure on inflation is expected to be "transitory."
"The headline number is being driven by the usual suspects, energy and food," said Ryan Sweet, a senior economist at Moody's Analytics Inc. in West Chester, PA, who correctly forecast the rise in the core CPI. "Strip those out and inflation is relatively subdued. Businesses are going to have a difficult time passing on the higher costs because consumers are still price-sensitive."
The full story on the price rises can be found HERE.