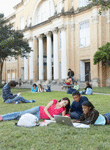 Recently, NRF Foundation Chairman and CEO of the Container Store, Kip Tindell, encouraged retail entrepreneurs and employers to partner with the NRF Foundation in promoting the retail industry as a top career choice for recent graduates. He implored, "Join me and The Container Store, along with many other world class retailers, in making sure that many, many, many more of the best and brightest students coming out of school choose retail for their career." Those organizations that joined became what Tindell calls, Retail Careers Employer Partners.
The NRF Is Asking Universities and Colleges to Join in Promoting Retail Careers
And as the new school year has started, the retail industry has succeeded in establishing a strong presence across campuses nationwide with the launch of a National Retail Federation Student Association (NRFSA), which offers member students the opportunity to leverage NRF's vast retail network and connect with those Retail Careers Employer Partners.  According to a press release by the NRF, at the launch of the association, fifteen colleges committed to offer members of their campus retail associations the opportunity to join NRFSA, including
•    FIDM/The Fashion Institute of Design & Merchandising
•    Florida State University Center for Retail Merchandising and Product Development
•    Georgia Southern University Center for Retail Studies
•    Ohio University
•    Retail Management Institute at Santa Clara University
•    University of Arizona Terry J. Lundgren Center for Retailing
•    University of North Texas School of Merchandising and Hospitality Management
•    University of Wisconsin-Madison The Kohl's Center for Retailing Excellence
Membership is currently available to students enrolled in U.S. universities with programs in retailing and related disciplines that are participating in the NRF Foundation employer-education network. "NRF's Student Association will connect young adults with top retailers seeking talent to fuel their companies' success," said NRF President and CEO, Matthew Shay. "This group offers students a competitive advantage over their peers through access to networking events with retail hiring managers, opportunities to take part in research opportunities, industry competitions and leadership programs, helping students to build their resume and prepare them for rewarding retail careers." And while it may seem like only the retail industry and graduates are benefiting from the new networking association, universities and colleges are also reaping some rewards. The NRFSA will also provide recognition of their programs throughout the retail industry as a source for future retail leaders.