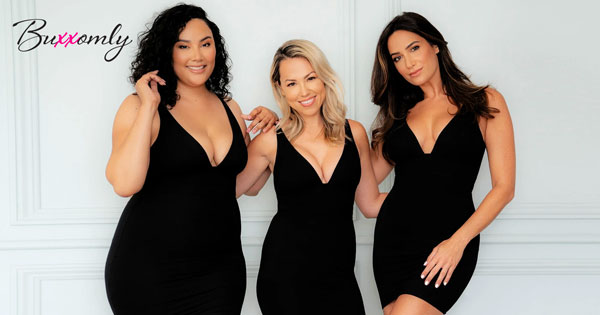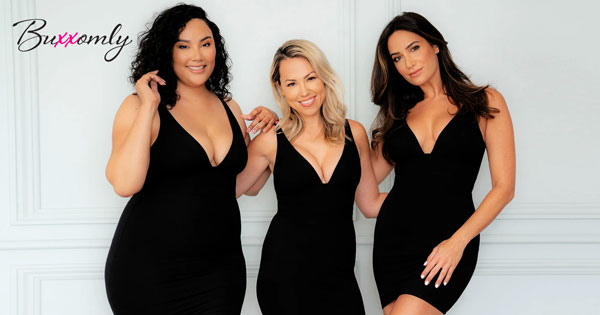 Not many brands have had the courage to launch during the pandemic, but along came Mika Leah with a lot of optimism and planning. Founder of Buxxomly, a brand with a complete reimagining of the supportive undergarment (and little black dress), Mika found the silver lining in these strange times and launched her business in October 2020.
"We are one of the lucky companies that has just launched during the pandemic and are navigating the waters," Mika said. "The pandemic has given us the opportunity to go slow and launch with the right partners. We are allowing ourselves this time to be strategic and go slow and see what works, instead of worrying about going to the market as quickly as possible, so it's really a blessing in disguise."
The Little Black Dress Lingerie
Proudly designed for women, by women, BUUST by Buxxomly is a radically redesigned one-piece foundation garment available in classic midnight black or milk white and crafted from soft, 99 percent recycled Italian fabric for an ultra-comfortable fit that always flatters. Completely made in the USA, this garment was designed by award-winning Italian designer Romina Cristodero, known for her visionary work for La Perla, Felina, and Vitamin A Swim.
According to Mika, this garment is designed to be like a little black dress. Not only does it have a built-in bra, but it also acts as shapewear to hold everything in so women can comfortably wear that backless evening gown they have been dying to wear. It can be worn underneath something to hold everything in place, or it can be worn as a little black dress.
"We're calling it LiftwearTM Lingerie," Mika said. "There's nothing out there right now that is both comfort and luxury in this space, and that's where we want to disrupt this industry. We all have shapewear that we put on that feels restricting or like we can't breathe, and now we are able to offer comfort but in a piece that feels like luxury."
A Leap of Faith to Start Her Own Company
Mika had her 'aha' moment after being wheeled into emergency heart surgery three weeks after her 33rd birthday. Four procedures and five heart stents later, she realized that life was short and she wanted to do what she loved. This experience gave her the courage to enlist in a business program, where she ultimately figured out she wanted to create a piece for women that would hold up their goods and allow them to wear beautiful backless dresses for which perfect fitting bras are so hard to find.
Mika then partnered with Italian designer Cristodero, and the two of them launched this piece to the marketplace. Even though the brand just launched in October, Mika says they already have plans for future lingerie pieces.
Sustainability Plays A Huge Role
Buxxomly's LiftwearTM Lingerie is made from super soft, recycled luxury Italian Q-Nova fabric in a process that aims to reduce CO2 emissions and water consumption while relying on renewable energy. "It's safe for the environment and it's made in the U.S. It has the best of both worlds. I'm pretty proud of the sustainability aspect. We all need to do our part, and it's important for each of us to make a difference," Mika said.
Currently, Buxxomly is sold through their website, www.buxxomly.com, and in a handful of small boutiques and bridal salons. To view Buxxomly's full product, please visit their website.