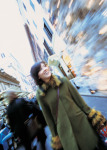 Now that back-to-school sales are winding down, retail operators are setting their sights on the next big push: Christmas.
According to Reuters, "shoppers are likely to disappear again until Black Friday, the day after Thanksgiving, which traditionally starts off holiday buying."
One analyst noted that consumers saved up for the back-to-school buying time, and might well be doing the same now in anticipation of the holiday.
"You are going to see a lot of purchases being made during the last week before Christmas," one analyst said.
For the complete story, including a look at some specific companies, click HERE.