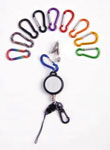 Andy Gorman was an asphalt paver for 20 years, and every time he bent to hook up a trailer to a truck, use a tool, or work on any number of blue-collar tasks, his cell phone would flip out of his shirt pocket, plopping precisely into a mud puddle. Every time he bought a replacement cell phone, it too would fall out of his pocket, only to be found crushed beneath a truck, ruined in water, or caught under machinery. "For the past several years, I also encountered situations in which I needed security clearance to get onto a job site, which meant I needed to think about how to protect and carry a security badge," Gorman shares. While paving the Portland International Airport, he noted that coworkers who dropped and lost their security badges would subsequently be prohibited from the job site until a replacement badge arrived, losing up to 10 days of time and income while they waited for a new badge. Gorman decided to take action. He invented the retractable tool tether and became the co-owner of AGC Enterprises NW, LLC.
The retractable tool tether is like having an extra set of hands and arms attached to the wearer's bag or belt. The apparatus comes in light and heavy-duty editions, and features a vinyl coated 22-inch steel cable that retracts into a small container that clips onto any belt, purse or jacket. "As an avid hunter and fisherman, I realized it worked for any number of small personal accessories like binoculars and wrenches, and lipstick and pepper spray for women," Gorman says. The product is available in 13 colors and can be customized with a company or team logo, printed on the compartment piece where the retracted wire is stored. Units come in three models; one with a Velcro strip, one with a red and blue flashing LED "Safety Alert Light," and another with a white LED (Peek-A-Boo flashlight.) The product appeals to several markets, from cyclists to construction workers, and Gorman has created unique package designs for each, to encourage sales in a wide spectrum of retail settings.
Suggested retail for retractable tool tethers with Velcro is $14.95, and both flashlight models retail for $17.50. First time customers receive a 10 percent discount, and while there is no minimum order, Gorman generally accepts orders in boxes of 25 pieces, which range from $200 to $237, with Velcro models priced at the lower end. Gorman recently added a pre-Christmas Sample Six Pack to the selection, and retailers can call him directly to request tethers.
For more information:
AGC Enterprises NW, LLC
7475 SW 82nd Ave.
Portland, OR 97223
Tel.: 971-246-3571