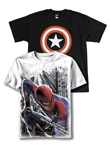 Rex International has got your T-shirt department covered. The international wholesaler carries branded T-shirts from globally recognized companies including Budweiser, Coca-Cola, Ford, Chevy, and Marvel Comics, for wholesale distribution according to Mani Sakhari, sales manager for Rex.
"We do a lot of Marvel-related T-shirts with characters from the comics and movies, as well as automobile T-shirts and brands like Coke and Budweiser". The stock is always changing—Rex receives two containers a month of new designs and T-shirts, so it's always a good idea to check in frequently and see what they're offering. T-shirts are available for men, women, youth, and children.
Rex has an established track record of 25 years in business as a wholesale company. Besides T-shirts, the company offers knives, sporting goods, beauty supplies, swords, leather goods, and other products. The company offers a number of exclusive brands including Cut USA, Duck USA, ProTex USA, Victory Sports, and Bone Collector USA. According to Sakhari, Rex prides itself on customer service and "aggressive pricing."
How to Buy Products
Rex products are available through the website or by phone. For T-shirt orders, it's best to call the company to see what's in stock and available—the website may not list all the new products.
There is a $200 minimum order at wholesale. Pricing discounts are available for high-volume orders, with up to 40 percent discounts available.