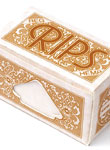 RIPS International has been a manufacturer of cigarette rolling papers for 30 years. In response to unpredictable cigarette taxation, the cigarette rolling industry has experienced an uptick as many smokers kick brand cartons in favor of rolling their own blends at independent tobacconists. Rolling cigarettes from scratch is an economical alternative to traditional cigarettes and a unique experience for smokers. As one of the largest manufacturers of cigarette paper rolls in the industry, RIPS® was founded as a family business in the 1970s and has continued to develop over the decades.
RIPS manufactures nine different styles of the product, and sells retailers a minimum order of three boxes of each of the three available widths. A pack of 24 pieces wholesales for $1 and retails for $3.75 to $3.85. RIPS invests great care and consideration in the length of the paper, and rolls range from 16 to 22 feet in length for all varieties. With such a wide selection, the company has become the global authority in quality cigarette paper. "We have 20 percent more paper per pack than any of our competitors, who typically put only 12 feet of paper per package," says Paul Gorman, director of sales. "That is why people trust us as a brand. You get a lot for your dollar." The company gives volume discounts on request to U.S. distributors. Gorman emphasizes that RIPS® is happy to supply any style of paper any width that customers want, whereas the majority of their competitors neglect that service, he says.
Most RIPS® International business is done online through the American website, www.RIPSrollingpapers.com, launched last year to encourage company growth in the American market. Now, as they prepare for ASD Las Vegas (booth SL4953), the company plans to take advantage of opportunities to further build its reputation in the U.S.
For more information:
RIPS International
Unit 2 Neptune Business Centre
Tewksbury Road
Cheltenham, Gloucestershire GL51 9FB, UK
Tel.: 213-438-9940
Website: www.ripsrollingpapers.com