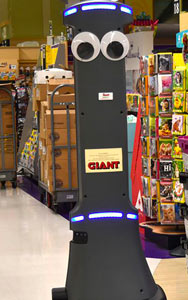 In April, employees of Stop & Shop, a grocery chain in New England, went on strike for eleven days. However, there was one notable exception. Marty, Shop & Shop's newest employee, continued his work in the stores' aisles. Marty is also a robot.
At the beginning of the year, Stop & Shop deployed Marty the robot throughout 500 Giant Food Stores, Martin's and Stop & Shop retail locations across the country in an effort to improve store safety and efficiency. Essentially, Marty the robot detects spills and alerts store associates that cleanup is needed.
Earlier this year, when I first met Marty and his googly eyes in-person, he seemed to follow me around the produce section before getting stuck on some small debris on the floor. There were very few shoppers who weren't taken aback by the robot's presence. After a few minutes of beeping, a human associate came to un-stick Marty. When I asked her about the robot, she sighed and admitted that dealing with Marty was more of a hassle than anything helpful.
Walmart
Stop & Shop is not the only major retailer to add non-human employees to their workforce this year. Walmart has added over 300 robots to their stores from start-up company Bossa Nova. Walmart has been testing Bossa Nova robots in some stores since 2017, but this is their largest roll-out. Unlike Marty, who detects spills, Bossa Nova robots scan shelves looking for out-of-stocks, pricing issues, and any other irregularities. The robots can take stock with scans faster than a person doing a manual count, and provides Walmart locations with real-time shelving data.
What does owning a retail robot look like? In Walmart's case, they don't actually own the robots. The robots are rented from Bossa Nova, who maintains, repairs, and services them. The data the robots produce is sold to Walmart as a service.
Walmart says that the scanners are used to help save associates' time by "helping them quickly identify the areas of the store that need the most attention." According to Walmart, "This combination of people and technology is helping make our stores more convenient and easier to shop, ensuring that products are available when our customers want them."
Pepper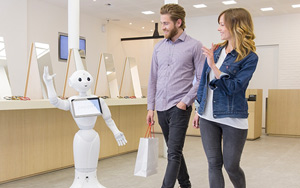 Retail robots are not a new concept. We've been covering the topic for years in this magazine. Pepper the retail robot has helped customers as an automated concierge at retailers, hotels, and museums across the country. Yet, most retail robots are met with skepticism, confusion, or worse by customers and employees alike.
In a survey conducted by Organization United for Respect a non-unionized group of Walmart employees, they found that not one person felt as though the robots that were added to their stores made their jobs easier. In fact, most employees felt as though the robots were adding to their workloads. The Stop & Shop employee I talked to echoed this sentiment, as she was "cleaning up" a hazard that Marty had detected on the ground: a small corner of paper. Whenever Marty detects something on the ground or gets stuck trying to round a corner, employees have to stop what they are doing and come to the robot's attention.
In an interview for Phys.org, Kristi Branstetter, a Walmart employee in Blue Springs, Mo., said "People are really worried about losing their jobs because we have this technology." But the limited capabilities of the automated machines have actually increased her workload. Branstetter said she has not received additional hours of work, and yet she feels more pressure to pick up the slack. "I don't really see where the technology is really beneficial. I just think it kind of adds more work for everybody."
Some of the most promising advances in retail technology are not with the humanoid robots roaming the aisles, but with artificial intelligence. Though robotics and AI often go hand-in-hand, they serve different functions. Robotics is the body, while AI is the brain. Amazon Go's cashierless checkout and Just Walk Out technology are popular examples of successful AI in retail. But other retailers are tapping into smart technology's potential to offer a better customer experience. Sephora, for example, uses face-scanning technology to help shoppers find makeup in the perfect shades. West Elm uses AI to scan customer's social media accounts like Pinterest to determine their personal style, and find products that match.
At this point in time, it seems that retailers are having the most success when their technology is focusing on improving the customer experience. Every retailer wants lower costs and more efficient operations, but that robotics technology does not seem to be fully fleshed out yet. Sarjoun Skaff, Bossa Nova Robotics' co-founder, and chief technology officer, said to Business Insider, "I think as an industry, [retailers] are hungry for data about their store operations. [Every retailer] has the same problem, and they want the same solution." Robots will continue to roll through retail stores, and eventually, we will get it right.