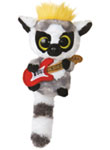 Retailers selling products to souvenir seekers can profit from a diverse customer base. Some travelers collect spoons and others seek commemorative shot glasses, but no matter what a tourist's taste, the love of a great souvenir is universal. At the International Gift Exposition in the Smokies (IGES) in Sevierville, TN November 6-10, wholesalers from across the country are doing some traveling of their own to attend the souvenir and resort gift industry's premier affair. Hundreds of wholesalers at IGES showcase the latest and greatest items for gift shops, tourist destinations and vacation spots.
Among this year's exhibitors is Rick Conway, who loved to collect rocks as a young boy. He bought his very first collector rock on an elementary school field trip to the Evansville, Indiana Museum of Art, History and Science. "When my aunts, uncles and grandparents learned of my love for rock collecting, they would send me rocks from their trips," he says. Now as the owner of Squire Boone Village, one of Conway's most beloved divisions of the firm is the Earth Exploration Company, which supplies souvenir shops with more than 100 different varieties of collector rocks from all over the world. As a whole, the company is in tune with the latest souvenir trends, including Hitchers Plush Animals, custom made postcards, candies and location themed jewelry. A hot seller is Squire Boone Village's line of soybean wax candles, made with wax from soybeans grown by American farmers. "Our candles are hand poured in the heart of Indiana soybean country," Conway reveals. The candles are available in four categories: Home Scents, Fireside Lights, Spa Lights and Rainforest Lights.
Free private labeling is offered with a $300 minimum order, and minimum orders vary by product. Free freight is also available across the board. Retailers can view several of Squire Boone Village's new products at IGES, where it will have 16 booths. "All of our products sell well in virtually any store that sells souvenirs," Conway points out. "Anyone who can benefit from selling souvenirs in their store should make a trip to IGES." Retailers at the event will receive limited-time prices on many items exclusive to the show.
Access to show pricing is just one of the many benefits of making a trip to IGES, and SJT Enterprises is another wholesaler offering special promotions. With four trade shows already lined up for 2013, SJT Enterprises plans to offer exclusive deals at each event. "Our minimum order is only $100," points out Tim Smith, company president. "Our best selling item in the souvenir sector is our line of wooden plaques, featuring dog breeds. Many of our customers say it's their number one selling item, season after season." The firm is now offering bone shaped car magnets for dog lovers, with each magnet stating, "I love Beagles," or any number of other canine breeds. "You see these on so many cars now," Smith says. SJT Enterprises' magnets are available in a large selection of breeds. They wholesale for $1.25 each, and retail for $2.99 to $3.99.
Crystal Bolano, marketing specialist at Aurora World Inc., has had a distinct appreciation for souvenir stuffed animals since her first trip to the San Diego Zoo in California. Now at Aurora World, she notes that a best selling plush souvenir is Aurora's YooHoo, a lemur with a multicolored tail that lights up when squeezed. "We've sold over 22 million plush worldwide," Bolano says, "but for the IGES, we're introducing a line called Destination Nation, specifically created for the Destination Market and incorporating super soft fabrics. We'll also expand our YooHoo line to include 11 new characters." The Destination Nation plush range in size from 12 to 15 inches, and retail for $12 to $14. Bolano encourages buyers to contact a rep for wholesale pricing information. "We always have promotions running," she shares, and minimum order quantities range from 24 to 4,800 pieces, depending on whether the item is custom made or embroidered.
Wholesalers nationwide use the IGES as a stage for debuting new keepsakes, and grant visitors advance access to the freshest industry picks. Cajole, a wholesaler based out of La Quinta, CA, is doing exactly that with its new handmade purse line. The company is best known for the Magic-Mat dashboard pad and its Neck Art accessory, but the line of purses is a standout addition, customizable to a buyer's specifications. "The purse itself is casual," explains Jason Barlow, partner at the family operated firm. "It has zipper pockets on the inside and a top flap that folds over to close it. Each purse features an image such as a lizard, shark, or the Earth, with a variety of graphics to choose from." Purses wholesale for $9 and $12, and retail for $20 to $30. The minimum order is one dozen. Retailers who purchase at least 24 pieces are offered customization options. "Beneath the graphic on the front of the purse, we can print the name of a place, which is what makes it even more appealing as a souvenir," Barlow adds.
From East to West Coast and every tourist destination in between, retailers are sure to find the hottest picks in the industry at this year's IGES. From plush animals to collectible rocks, the merchandise provided by exhibitors at IGES is sure to deliver solid sales in any season.
For more information:
Squire Boone Village
406 Mount Tabor Rd
New Albany, IN 47150
Toll Free: 888-234-1804
Website: www.squireboone.com
SJT Enterprises, Inc.
28045 Ranney Pkwy Unit L
Westlake, OH 44145
Toll Free: 800-326-7419
Tel.: 440-617-1100
Website: www.greatstorestuff.com
Aurora World, Inc.
8820 Mercury Lane
Pico Rivera, CA 90660
Toll Free: 888-287-6722
Tel.: 562-205-1222
Website: www.auroragift.com
Cajole
51813 Avenida Vallejo
La Quinta, CA 92253
Tel.: 760-666-1867
Website: www.cajoleonline.com