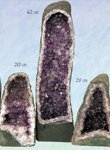 The state of Utah promises limitless outdoor adventures, with mountains, deserts and mineral filled lakes to explore. Surrounded by such a rewarding environment, it seemed only natural that Western Woods of St. George, UT, should go into the business of wholesaling natural products. While its roots are in woodworking (clocks and desk accessories), the company now produces home decor and collectible lines using the natural material of rocks and minerals. Just as Western Woods has found its niche in rock products of all types, Daren Aitken, sales manager, explains the wholesaler has also found a niche in distributing to the resort and tourist market.
Natural Material Sells Well as Tourist Market Merchandise
One of those companies in the tourist business that has found success with Western Woods' products is Utah retailer, Ruby's Inn General Store. Ruby's Inn is the closest lodging to Bryce Canyon National Park, a highly visited area known for its opportunity for outdoor exploration. The General Store is one of the largest of it's kind in the Bryce Canyon area, boasting an impressive selection of authentic Southwestern Native American arts and crafts, including jewelry, pottery and weavings. The General Store also sells many other items such as groceries, camping gear, clothing, shoes and more, but one of its well known highlights is the Rock Shop, featuring rocks, fossils, minerals and petrified wood.
While open all year, Ruby's Inn General Store does experience an off season, but not before seeing high product turnover during the warm summer months. According to Tonya Syrette, co-owner and office manager of the General Store, Western Woods products are among some of the hottest selling items during the peak season. Two product lines it has continued to do well with over the years is Western Woods' Earth Discovery and Design Jewelry lines. "Earth Discovery is a popular category. The rough rocks are a favorite with those who want to start up their own collection," explains Aitken. "The information cards that go with the rocks are a great educational item."
Jewelry is another favorite, Syrette points out. Wholesaling between $0.25 to $50, the expansive line of gem and mineral inspired jewelry turns a good profit at around three times the markup, and promises something for everyone. "With the economic situation we have experienced over the past few years, we are noticing that retailers are purchasing more small ticket items that produce higher percentage markups, and higher turns on those products," notes Aitken. "I believe that will continue in 2012." However, no matter the economic times, Syrette foresees Western Woods as a long-term partner, already celebrating a long-standing history with the distributor.
Copper World of Calumet, MI, while a newer retail buyer of Western Woods' products, has nothing but good things to say about the wholesaler after 10 years of business together. And after nearly 40 years in retail, owner, Tony Bausano, knows a thing or two about customer service. "I've worked with other vendors supplying similar product before Western Woods, but none offered what they do," he says. "Western Woods offers things like extended dating on larger orders, freight allowances, displays and more." With an opening minimum order of $100 and no minimum on reorders, retailers aren't committed to purchasing too much in order to get Western Woods' products in their store. It is programs like the company's free freight program on the popular tumbled stones that has customers like Copper World raving. "A 50 pound order of the tumbled stones will receive free freight. This is available to customers in the lower 48 states," adds Aitken.
Such a program is perfect for Copper World, as the Tumbled Stones line offered by Western Woods is one of its best sellers. "These unique stones are enjoyed by kids of all ages, as they pick out the shiny stones and fill felt bags to make a personalized collection," says Bausano. "I like to call the Tumbled Stones a pacifier for children; something much appreciated by their mothers as they shop throughout the store." And what are some of the items these mothers are looking for? It comes as no surprise that Western Woods supplies a top of the line home decor and houseware line, made of onyx, as well as amethyst geodes that many consumers like to decorate their homes or offices with, because of their natural beauty.
While a little more pricey, amethyst geodes carrying a suggested retail tag of $1,000 still attract consumers who are willing to spend money for natural and unique items. "Most of our items wholesale for $5 or less, but retailers can generally markup these products for two and a half to four times the wholesale value," says Aitken. And for Copper World's Bausano, this is good news because he is selling year round. While there is a definite surge in business during the summer, he and his staff see some strong sales during October through the holidays, as well as through its online store. "I call our web sales our thirteenth selling month," notes Bausano.
Originally a Great Northern Mineral supply shop run by his father, Bausano has transformed Copper World into a gift shop with one of the largest selections of memorabilia and souvenirs in Keweenaw County. Copper World features many local artists, as well as other regional, national, and international artists and companies. The store has been built around copper mining history. It features many copper gifts, along with the largest selection of books and DVDs about the region's history. "We also carry minerals and memorabilia from the Copper Mining era," says Bausano. The building adjacent is also part of Copper World, and carries clothing from infant to adult 3XL, hats, mittens, scarves, purses, and much more.
Among the store's displays is a large wooden octagon tube display for the tumbled stones, which includes a large number of different stones. There are between 40 to 60 different stone types in every 25 pound bag. "We mix our stones by hand, to offer the most consistent and highest variety of mix in the industry today," says Aitken. For the other Western Woods' products on display, Copper World showcases three open cube fixtures, featuring lights to bring out the natural sparkle of the amethyst geodes and other pieces on display. Bausano believes these displays really make the difference when selling the merchandise. "We have starter kits for every product line that we offer. We also offer point of purchase displays or fixtures for all of our products," explains Aitken. "We have an in-house cabinet shop that produces the highest quality displays, and this has been a big success for our products by producing proven displays that sell the merchandise. We also often do custom displays for our customers."
Western Woods boasts on its website, "Rock'n your world for 27 years," and retailers like Ruby's Inn General Store and Copper World are quick to back it up. Inspired by the great outdoors, the wholesaler has found success in bringing natural beauty indoors, as consumers look to add to their décor or growing collections. Retailers looking to offer Western Woods' products can browse both its online store and download the company's catalog at www.WesternWoods.biz.
For more information:
Western Woods Inc.
740 N. Red Rock Rd.
St. George, UT 84770
Tel.: 888-284-2041
Website: www.westernwoods.biz
Ruby's Inn General Store
26 South Main
Bryce Canyon City, UT 84764
Tel.: 435-834-5484
Toll Free: 866-866-6616
Website: www.rubysinn.com
Copper World
101 Fifth Street
Calumet, MI 49913
Tel.: 906-337-4016
Fax: 906-337-5675
Email: Use online form
Website: www.calumetcopper.com