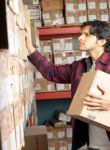 The U.S. Commerce Department announced this week that retail sales increased in the months of January and February, despite a drop in wholesale inventories. Inventories were reduced in January by 0.2 percent (after a 1 percent drop the previous month), while sales increased by 1.3 percent in January (the highest jump since last November) and by 0.3 percent in February. This in the face of a recent survey of economists by Dow Jones Newswires that actually predicted a 0.3 percent decrease in February.
February 2010 was the eleventh straight month during which sales have been on the rise. However, wholesale inventories remain on the decline, indicating that there is still some trepidation amongst wholesalers with regards to refilling their shelves. Nevertheless, the steady gain in sales is a reason to be hopeful, with many observers predicting an eventual sustained recovery in inventory stocking as a result. Such a boost would lead to an increase in factory production, which would only help the economic recovery further.
As for the inventory decline, Robert Brusca of FAO Economics told the Associated Press that he believes it to be caused in part by the underestimated sales gain, which led to a greater draw-down of stockpiles than most wholesalers had expected to occur.
"The acceleration to a strong growth rate for sales is clear evidence that the drop in inventories probably was not intended," said Brusca. "All this suggests that inventory building should resume and do so with considerable gusto."
The retail sales increases come in spite of the recent woes in the car industry related to Toyota safety issues, as well as the snowstorms that rocked the East Coast.