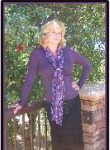 Something as simple and elegant as a woman's scarf can sometimes be a vexing garment, especially when the wind starts to blow. That's where he Scarf Clasp comes into play. Designed and invented in 2008 by Vicky Reinke, the Scarf Clasp does exactly as its name indicates; it clasps together the ends of a fashionable scarf so it doesn't fly away.
"I was doing crafts at home and needed something to keep my scarves from getting in the way," she explains. "I designed a few to wear with my knit scarves, my friends and family saw them and encouraged me to market them, so I did!"
Reinke now has a full line of clasps available at her website, thescarfclasp.com. The most popular one is the Cloisonné, available in a variety of colored-glass styles. "Women like them because they go with any of a number of solid-colored scarves," she says. Wholesaling for anywhere from $4 up to $8.50 each, Reinke says retailers are getting from $15 to $20 apiece for the unique clasps. She also offers designs in pewter, natural stone and other types of mixed glass, and sells primarily to boutiques, hair salons, and clothing stores where scarves are sold. While Reinke notes that business has been understandably slow in warmer months, she expects it to pick up as the temperatures drop.
Reinke is also excited about her newest offering, a brooch with a magnetic backing, designed for finer garments where a pin-clasp might be unwise. Wholesale inquiries can be directed to her website thescarfclasp.com, or by calling 209-736-6875.