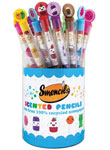 Up until January, Scentco, Inc. was known for its school fundraising product, scented pencils known as "Smencils." Now a vibrant, newly redesigned line of pencils, markers, gel pens, and soon, stuffed animals, is available for retailers. "We brought everything on trend and put a lot of design effort into the products. They have a fresh, fun, new look," explains Sales Director, Brandie Bowers, who is energized about the changes.
New designs
One new addition is birthday Smencils, available in five colors with a happy birthday message, and a cupcake scent which lasts for up to two years. They come in individual tubes and open with a colorful plastic top, with an image of a cupcake. "They are such a nice, little gift, and we are finding that a lot of customers use them as present toppers. They are also great teacher gifts," says Bowers. There are also seasonal Smencils for Halloween, spring, and the holidays. The popular product is still used for fundraising as well.
Also new are Smarkers, gourmet-scented markers representing a tempting array of sweets: bubble gum, ice cream, soda and cupcakes, to name a few. Gel pens are also hot right now, explains Bower, and the new glitter line of Smens comes in sets of five bright and sweet colors. Smens are also available in black and metallic gel inks. Rounding out the offering are Smanimals, little critters that each reside in their own egg-shaped container, including a mint chocolate chipmunk and an "orange-utan." There are 10 in all.
Though the products are geared for tweens, adults love them too, notes Bowers. "There is an endearing quality to the line. People get so exited and engaged." They also transcend boundaries as far as retail fit. "There is nowhere they can't go, because everyone needs a pen or pencil, and the addition of scent opens them up to any place that sells sweets, from candy stores to ice cream shops," Bowers notes.
Recycled fun
Every Scentco product has some aspect of green design, and the Smencils and Smens barrels are made from recycled newspaper. The erasers are biodegradable, and the plastic on the pens is recycled. The tubes are made of biodegradable corn plastic, so even the packaging is environmentally friendly.
Buying details
The graphite Smencils come in a cylinder of 40 pencils with 10 scents (four of each scent) for $34, or 85 cents per pencil. The minimum quantity is one cylinder, and the suggested retail is keystone. The five-pack display with 20 sets of five assorted Smencils is $70, and the minimum order is one display. Smanimals come in minimum order quantities of two at $7.50 each. Download a catalog for dozens of other products and display combinations at scentcoinc.com/retail-catalog/.
Scentco, Inc.
8640 Argent Street
Santee, CA 92071
Phone: 619-582-9900
Toll Free: 1-866-763-6245
Website: www.scentcoinc.com