SCENTS & MORE has introduced Decojel beads, under its Sermo brand. Decojel consists of tiny beads of a non toxic polymer that expand to 400 times their original size, after soaking in water for about 10 hours. They come in Decojel kits that also include fragrance oil. Once they have expanded and the excess water is drained, they can be placed in a transparent container with a bit of the oil, and the unit becomes a decorative, colorful vase of crystal gel balls that freshens the air with fragrance from the oil.
The duration of the aroma varies, depending on the size of the opening in the container. In a small mouthed vase, for example, it can last for up to two months. The beads then shrink back to their original size and can be reused. Fresh cut flowers and plants, such as the popular bamboo plant, can also be placed in a container with Decojel. Floating candles may also be used in the containers.
Each Decojel kit contains 200 of the tiny beads, along with fragrance oil and instructions. The user can expand all of the beads at once, use just a half pack, or even just a few in a small container. Decojel beads come in a choice of five fragrances and corresponding colors: Flower Garden (yellow), Fruity (in pink), Jasmine (green), Lavender, and Ocean (in blue). The package is about five and a half inches by three, and it is designed to be displayed on a pegboard or hook. Users can combine different colors and fragrances for special effects.
The minimum order is a case of 120 units for $150, which translates to a wholesale price of $1.25. The case can be of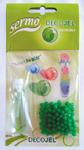 assorted colors/fragrances. A display rack comes free with an order of two cases. The suggested retail price is $3.99 to $4.99. Decojel is exclusive to Scents & More and is made in Turkey.
Scents & More
14 Boston Place
Huntington Station, NY 11746
Tel.: 631-827-8567
Website: www.sermoclub.com