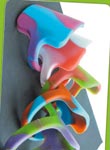 Dave Bullock, a middle school teacher, noticed that students have a few common characteristics. "They love to wear stuff on their wrists, they love to write on their hands and arms, and they love colorful things," he says. When Bullock pieced this all together, he created the Scribbleband, a soft silicone bracelet that is made to write on. It has become a skin friendly way to take notes, jot down homework assignments and doodle. "My kids' and the neighbors' kids' reactions were all very enthusiastic and positive," Bullock recalls.
Bullock launched the product last spring in Las Vegas, and followed up with the Merchandise Mart trade show in Chicago. In the months since, Bullock has continued to refine the Scribbleband and expand the number of color choices. A new type of silicone material delivers a softer, more elastic wristband that is still easy to clean with water. The product is available in three sizes: small, which measures 5.5 inches in diameter; medium at 6.5 inches; and large at 7.5 inches. There are many swirled color combinations, including neon Scribblebands." Along with my new colors and improved silicone, I have more than 50 patent pending variations of different types of Scribblebands that I will be selling in the near future," comments Bullock. These will likely include designs such as peace signs, footballs and butterflies.
Bulk buyers may purchase Scribblebands for the wholesale price of $2.50 apiece, but the company is running a wholesale special of $2 per band in February and March. "Of course, for larger orders pricing will change," Bullock points out. Suggested retail is between $3.99 and $4.99 per band. The minimum order quantity is 50, and if a customer is interested in custom colors or logo and design printing, the minimum order is 500 pieces. With the purchase of 50 pieces, retailers receive a sign to use as a point of purchase display, and with a 100-piece order they also get a free display rack. Retailers may order by calling Scribbleband directly, and there is additional ordering information on the company's website. With a vibrant blue theme and a side menu that resembles a box of crayons, the site also details color options, special deals, and how to sign up for email alerts on discounts.
For more information:
Scribbleband LLC
873 Bur Oak Dr.
Chesterton, IN 46304
Tel.: 219-242-1543
Website: www.scribbleband.com