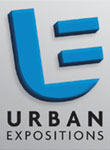 Founded in 1996, Urban Expositions has quickly grown to become the largest gift, airport, and souvenir trade show in the country, in part because of the environment at an Urban Expo show. "An Urban gift show is distinguished by its friendly, casual, and comfortable environment," explains Dirk von Gal, vice president, gift, marketing and buyer services. "We work hard to create a relaxed, yet professional atmosphere that is conducive to doing business."
Urban's specialty is regional gift shows, and the company's first show was held in Philadelphia. This show is still going strong, and is scheduled July 20–23 at the Philadelphia Expo Center. Urban Expositions also has shows in Chicago (July 26-29 at the Donald E. Stephens Convention Center); San Francisco (August 2–5 at Moscone Center), Seattle (August 16–19 at Washington State Convention Center), and Fort Lauderdale (August 23–26 at the Greater Fort Lauderdale/Broward County Convention Center). In all, Urban hosts 34 shows per year.
"Each of our shows has its own profile and personality, with a regional flair that distinguishes it," von Gal says. "And while the shows offer a broad and deep selection of merchandise in every category, each show is custom-tailored to the specialized needs of the region it serves. Take our Boston Gift Show, for example. Catering to the needs and consumer tastes of the New England marketplace, the show's selection runs the gamut, from Cape Cod inspired souvenirs to tasteful gift and home accents that are in sync with the New England aesthetic."
To get the most out of every show, von Gal advises attendees to spend as much time at the shows as possible, and take advantage of reduced hotel room rates. "It's important to walk the entire show," von Gal recommends. "Your next best-seller might be in the next aisle." In conjunction with the shows, Urban Expositions also offers education seminars and programming for attendees, with speakers presenting on effective retail and sales strategies.
How to attend
Urban Expo shows are free to qualified retailers, and you must present a picture ID and two forms of business ID. In addition to the company website, Urban also offers a downloadable app with a show schedule, as well as information on each individual show, including a complete show directory and contact information for all exhibitors. Contact information for individual show coordinators is available on the Urban Expositions website.
Urban Expositions
1690 Roberts Blvd., NW
Suite 111
Kennesaw, GA 30144
Tel.: 678-385-3976
Website: urban-expo.com