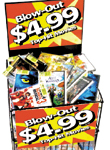 On Demand services, Redbox rentals, and high retail prices continue to plague DVD sales, but Selection Video has found a solution to re-excite the retail market. The company's $4.99 DVD program promises not only profitable and quick product turnover for retailers, but also cost effective entertainment for their customers. "The reason for our success is that we offer movies people want to watch. While these movies typically sell for $9 to $12, our investment in previously viewed blockbusters allows us to market them at a desirable $4.99 price point," says president and co-owner, Derrick Senior. So many alternative movie viewing methods have left DVD players to collect dust. Yet with Selection Video's offer of highly recognized and reasonably priced movies, customers will be buying multiple titles to finally get some use out of their players.
Promotions and Placement Help Profits
And while titles and pricing may make the sale, Senior believes POP and floor displays are what initialize the purchasing process, grabbing customers' attention. The 18 by 18 inch bin, with its illuminating orange and yellow screen printed signage, provides a small footprint, a large statement and a big profit, with an expected $75 a week in sales. "Every store we have put the bin into has taken off. There are now more than 5,000 participating stores in this program, some large chains, but primarily convenience stores and dollar stores. We are also looking to expand into other independent markets and value driven stores," emphasizes Senior.
Placed in the aisle of a retail store, the bin holds six cases or 120 assorted title DVDs, and promotes a browsing experience. "It's one of those experiences that is hard to walk away from. Customers want to dig deeper and see what else they can find. Once they've started and spent the time, they don't want to walk away empty handed," Senior says. In fact, most customers will walk away with two to four DVDs. Some retailers go with one bin, some with three or four, and place them side by side in the aisle, creating an even larger browsing experience. For those retailers looking for a smaller POP option, Selection Video offers a countertop display sharing similar signage but holding only 14 DVDs, perfect for those impulse buys made at checkout.
Retailers will quickly see that making a profit requires little preparation, as bins and countertop displays are used for shipping, and then in-store set up. Individual DVDs are retail ready, wrapped and given an individual price sticker and barcode. "We aren't talking machine wrapping. Each DVD is wrapped manually, ensuring a quality job and no damage to the product," Senior says. Selection Video requires an introductory order of at least one case, which contains 20 DVDs, and any reorders must meet a two case minimum. Retailers can expect a 30 percent profit margin on their investment, originally wholesaling for $3.50 a unit or $70 a case. "And while 30 percent is a decent profit margin, it is the rapid turnover of product that makes this program most desirable," notes Senior.
The $4.99 DVD program is a good investment, especially this time of year. "Retailers should expect to see a huge increase in DVD sales, almost four to five fold during the fourth quarter," Senior points out. With holiday shopping underway, shoppers are looking for the perfect stocking stuffers and gifts to keep family and friends entertained within their tight budgets. "We have over a million DVDs in stock, and while retailers don't know exactly what titles they will be receiving, they can be assured we have the titles people are looking for," says Senior. Selection Video has something for everyone's holiday shopping list, and perfect for those Secret Santa grab bags.
For more information:
Selection Video
102 Kimball Ave., Unit 2
South Burlington, VT 05403
Toll Free: 800-451-5777
Website: www.selectionvideo.com