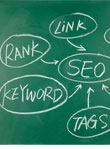 Online retailers have to stay on top of web trends to attract visitors and convert them to buyers, and internal linking is one very important way to achieve this. Part of an online seller's SEO strategy, internal links aid in search engine ranking because they build the authority of a page. Search engines regularly crawl websites, and they determine what a site is about and if they should list it in their search results. Internal links define pathways and important pages, helping crawlers figure out a website's architecture. The most important pages will have the most links to them. Internal links also help visitors navigate your website. Many online shoppers click on links in text versus a navigational menu because they offer a natural transition from one post to another. According to HubSpot, an Internet marketing firm, there are three ways to improve internal linking on your website.
1. Sketch out a map of your website.
Make a list of each page in your main navigation and the links on each page.
2. Look at the topics about which you frequently write.
If you are writing regularly about a topic, you should have another dedicated page about that topic on your website. Each of your posts should be linking to that page on the subject and it should be optimized for conversions.
3. Think about every other page that could link to your ranking page.
If it is a page related to a topic you frequently write about, make sure each of your new posts about that topic reference that page and link to it.
When you are linking from one page on your site to another, there are a few best practices of which you should be aware:
Relevant anchor text includes keywords that indicate what the linked content is about.
When you link a keyword to another page, make sure that keyword is on the next page that you are linking to.
Crawlers read the anchor text as well as the words around it so place relevant content around the link.
If you link to a page multiple times, mix up the anchor text or link title so you give the search engines an even better idea of what this page is about.
Always add links and keywords to a site for users first and search engines second.
To implement your internal link strategy, identify a keyword that is of value to your business, such as a phrase that consumers use to search for your product. Next, create an offer that revolves around the topic like free shipping or a limited time offer, and start linking to your offer from various pages including your homepage.
Internal links are powerful and can improve SEO, decrease bounce rates and increase your page views per visitor. By properly creating internal links on your site, you will be able to raise its ranking, as well as create a user friendly experience for shoppers.