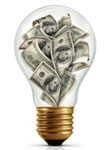 The Company Corporation, a leader in helping small businesses incorporate and form limited liability companies (LLCs), has announced the launch of a new contest for small business owners, "Share 5 Small Business Tips for a Chance at $5,000." Business owners are encouraged to share five of the most important lessons they have learned in running their business. Additionally, business tips submitted by small business owners will appear on The Company Corporation's website and will be credited to the company name and website, providing an excellent opportunity for business owners to network and acquire savvy business tips.
A panel of The Company Corporation's Small Business Specialists will select the contest winner based on the following criteria:
Inspiration (40 percent)
Originality and creativity (30 percent)
Relevance (30 percent)
"Every entrepreneur and small business owner is unique," says John Meyer, director of Marketing at The Company Corporation. "We are interested in learning from the tips that small business owners, the drivers of the American economy, have to offer."
The deadline for participants to register for the contest is on March 31, 2014, and the selected contest winner will be announced on or about April 25, 2014.
To register for the contest, click here.
For a full list of the rules and regulations of the contest, click here.