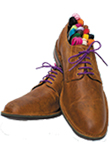 Shoelaces Wholesale specializes in fun and trendy shoelaces, lanyards, and accessories manufactured in the United States and South Korea. Owner Charles Winge and his family take great pride in offering the best quality. "Our products are created with state-of-the-art equipment so there is no color bleeding, smears, or fading in any of the patterns or designs." Their shoelaces include varieties of flat athletic, metallic, glow in the dark, patterned, waxed, and glittered styles. "Only retailers, manufacturers, designers, nonprofits, wholesalers, shoe repair shops, schools, colleges and universities can benefit from our wholesale prices," says Winge.
Shoelaces Wholesale is a family owned and operated business located in Glennville, Georgia, about 50 miles west of Savannah. They strive to create lasting partnerships with each customer, and view each customer as an integral member of the Shoelaces Wholesale family. "The smallest concern voiced by a customer is immediately met with genuine concern by one of our family members," continues Winge. "A compliment from a customer is valued as much as a son values a word of praise from his father. From where does this commitment stem? Our love of God and commitment to our church as well as our desire to serve our community and our customers by giving our very best."

To ensure every retailer is satisfied, Shoelaces Wholesale offers a 30 day money-back guarantee for orders returned in original packaging. They also do not have a minimum order requirement. These company policies make it easy to test out different products and see what will work best in your store. Shoelaces Wholesale also offers two types of display racks; a wall mount and a standing display. The wall mount has 17 hooks. The round display can be adapted for the ground or counter.
For more information and to view the Shoelaces Wholesale collection, visit www.shoelaceswholesale.com.