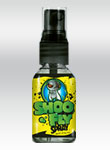 Shoofly Spray from Telam Corp. is a new, nontoxic and all natural insect repellant that is safe for humans and animals. Made in the USA, the product is composed of 14 types of vegetation, and does not contain DEET. Shoofly has been proven to keep away flies, mosquitos, gnats, wasps and some types of bees for hours. It comes in a one-ounce spray glass bottle.
"The bottle has a funny little cartoon fly on it that looks angry. The product and the packaging are very kid friendly, and moms and kids feel comfortable using it," says Edward Rodarte, CEO and co-owner of Telam Corp. "A mom can protect her family from bugs, and not worry about exposing anyone to poison. Shoofly is completely nontoxic. The product was originally introduced to veterinarians for horses, and it is safe to use on all types of pets, so flies aren't nipping at their ears."
Safe around food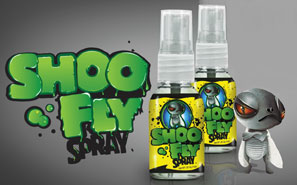 In addition to being applied directly to the body or clothing, Shoofly is safe to spray in the home, and even around food. "You can spray it around doors and windows, and it acts as a barrier to repel insects. They get a whiff and turn in the other direction," Rodarte adds. "If you are going on a picnic outside, you just spray it around the table and chairs, and it will keep the bugs away."
Shoofly has a mild scent that is a mixture of eucalyptus and wheat-grass. "It is not like citronella," Rodarte continues. "The scent is soft and subtle. Everyone who has tried it tells us they like the smell. Some people even say it could be a body fragrance." Shoofly is easy to travel with, and can be tossed into a backpack, purse or pocket. The product wholesales for $2.50 and retails for $5.99.
Easy impulse buy
"People love it because it works to keeps bugs away, smells good, and is inexpensive."

Edward Rodarte, CEO and co-owner
Telam introduced Shoofly at several recent trade shows, and the response has been phenomenal. "People love it because it works to keeps bugs away, smells good, and is inexpensive," Rodarte states. "With eye-catching packaging and a colorful 12-pack counter display, it is an easy impulse buy." The minimum order is one case of 48 bottles, and Telam is creating posters and other marketing materials to support retail sales of Shoofly.
Telam Corp. manufactures a number of other innovative products that are also popular sellers, including Sweet Feet, a spray that eliminates shoe odor and kills germs. It is available in a cherry plum aroma, packaged with a bright pink label for women, and a more masculine fragrance packaged with a black label for men; Smoke Off, which gets rid of tobacco smells, and Uglow, a glow in the dark body oil. To learn more, visit Telam Corp. at ASDLV, March 16-19, booth SL1454. The company will be offering free shipping on orders written at the show.
Telam Corp.
P.O. Box 59
Victorville, CA 92393
Tel.: 760-813-6077
Website: telamcorp.com, or shooflyspray.com