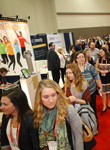 National Retail Federation's annual ecommerce event will return to the LA Convention Center September 25 – 27. The event is designed to provide insights into the future of digital retail and how to apply them in today's marketplace. Formerly known as Retail's Digital Summit, this year the conference has rebranded to Shop.org. In addition to a new name, Shop.org will bring a new immersive experience that will blend educational content, an exhibit hall featuring futuristic technology solutions, and new ways to expand attendees' professional networks.
For the first time, the exhibit hall, main and feature-stage keynotes, and breakout sessions will all be on one large floor, allowing attendees to easily interact with exhibitors, network with other retailers and see speakers in one location. The exhibit floor will be organized into sections based on product categories, making it easier for retailers to find the products they need.
"At Shop.org, attendees will discover new ideas, get actionable takeaways and build strong relationships with the brightest and most innovative players in the e-commerce world," says NRF president and CEO Matthew Shay. "The rebranding of our show reflects our desire to focus on qualities that differentiate us from our competitors and stay ahead of the innovation curve in the retail industry."
Susan Newman, NRF senior vice president of conferences says, "As retail continues to evolve, so will the content and format of our shows. Our transformation strategy is focused on leveraging ways to improve the audience experience by providing insight and content that allow retailers to continue evolving in this new era of the digital consumer."
Celebrity Speaker Lineup
Tyra Banks and Kobe Bryant will join executives from Disney®, TechStyle®, theSkimm®, DSW®, Ashley Stewart®, West Elm®, Wayfair®, Google.com, Goop®, and much more to headline the list of speakers. Newman says, "We are excited to have industry leaders and executives from brands that continue to reinvent. These pioneers continue to transform the ever-changing retail and digital environment and will give our attendees new ways to reinvent their businesses during this crucial time in the industry."
More than an Event
Shop.org brings together the ecommerce community to learn trends, techniques, and technologies to improve ROI and increase profitability. The immersive experience also includes a brand new Innovation Lab, showcasing transformational tech and futuristic products. Retailers can also experience live product demos, podcast studios, one-on-one meetings, curated expo tours, and more. For more information visit www.Shop.org.