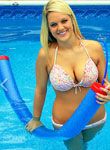 The concept for the Sip-N-Oodle started in the backyard pool of Cameron Parker's father, Chip. "I was a young kid at the time, and everyone was relaxing on noodles in the pool. I was splashing around and getting water in their drinks, and one friend said, "Wouldn't it be great to design something that keeps the water from getting in there?" Four hours later, the first prototype was built. "Fast forward to last summer," says Parker, "and I found the old prototype and decided to turn it into a company." He contacted an old friend, Greg Neely, and together decided to give it a shot.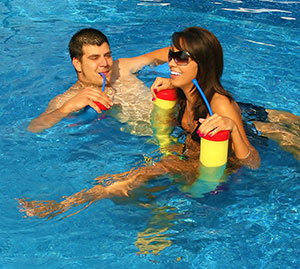 The Sip-N-Oodle is made from the highest quality noodle you can get from the original noodle company in Canada, not China, with a silicone bladder that runs through the length of it for the liquid. The medical and food grade silicone material does not retain any taste, smell, or bacteria, and just needs to be rinsed out with water after use. On one end is a recessed funnel with a silicone plug, while the other end is a capped-off straw with a bite valve.
The Sip-N-Oodle was launched at the International Pool | Spa | Patio Expo in Las Vegas last November, where Parker says they took orders for several thousand noodles. "We realized there must be something to this." Then, at the Everything Under the Sun Expo in February in Orlando, Sip-N-Oodle was named Best Product.
Buying details
Production has just begun, in two sizes: a three-inch noodle for people under 200 pounds, and a four-inch noodle for those over 200 pounds, each with the capacity to hold 24 ounces of fluid. Wholesale pricing depends on quantity, ranging from $10.95 for the three-inch model, $12.95 for the four-inch model, down to $9.45/$11.45. The suggested retail price is $19.95/$24.95, and the minimum order is one case of 25/16 units. Orders can be placed by phone, or on the website's wholesale portal when it launches in May. Parker will be in Orlando for the International Pool | Spa | Patio Expo in November.
Parker Neely Enterprises LLC
410 E. Taylor St. #I
Griffin, GA 30223
Phone: 678-688-1000
Web site: www.sipnoodle.com