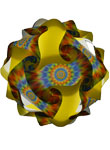 LuvaLamps are Danish-designed lighting fixtures that also happen to be 3-D puzzles. "It is an interesting combination," says Jon Scheerz, president of Product Hunters, Inc., which distributes the lamps. "They started back in the '70s as a holiday decoration in pure white, then over the years added 18 solid colors. The past couple of years, LuvaLamps has gone gangbusters, introducing 40 different patterns and print designs. "What is hot right now? Chevron prints," notes Scheerz, though perhaps a little of everything: psychedelic, funky, animal prints, polka dots. The prints are also great when mixed with bright, solid colors.
Interlocking puzzle pieces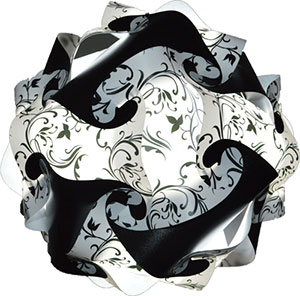 LuvaLamps are made from 100 percent post-consumer plastics, including their own leftovers. Every piece of waste plastic is shredded and melted down to make the next piece. Another unique feature of these lights is that they are created from interlocking translucent plastic puzzle pieces. The plastic is a lightweight, heat-resistant polypropylene. The basic LuvaLamp kit includes 30 puzzle pieces, and instructions on how to make more than 20 different designs. There are also instructional videos on the LuvaLamp website. "They are super easy," says Sheerz. "The product is centered around it being easy enough for kids to put together."
Creative lighting
Among the biggest markets are children. "They really have developed an eye for what they like for their rooms, and also change that over the years. LuvaLamps can grow with them, from their pink days to their boy band days." They are also popular in college dorms, with a new collegiate line in team colors. Then there are the sculptural animal designs that include a 3-D fish and a turtle, which are favorites with both kids and adults. There are so many possibilities, from home decor to weddings, and special events to outdoor lighting.
Buying details
The lamps are sold two ways. There are poly-bagged 30-piece kits for retailers at fairs or kiosks, who plan to build lamps and hang them on display. Colors and patterns can be mixed, with a minimum of 24 bags. They are also available in retail packaging for gift and other retail stores, with a 24 package minimum. There are three sizes for the basic round lamps: 10″, 13″, and 17″. The light cord that comes with the kits is for indoor use only, and customers can purchase outdoor cords separately. The lamps work with 40-watt light bulbs, 33-watt CFL bulbs, or 25-watt LED bulbs.
LuvaLamps
Product Hunters, Inc.
6946 Van Nuys Blvd., Suite 204
Van Nuys, CA 91405
Tel.: 818-939-1193
Web: www.luvalamps.com