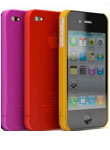 When Patricia Wyatt used her first Nutel Wireless product, she could immediately see the difference in quality from other phone chargers. "They light up at the end, and you know it is working. You don't have to check your phone to make sure it's charging." Now, as general manager of the company, Wyatt sees the other benefits Nutel offers. "Our displays and packaging are very attractive, and we get a lot of compliments," she says. "That helps to sell the products."
Nutel knows the wireless industry, being the first company to offer wireless cell phone products to the convenience store market back in 2001. Today, Nutel's chargers are in about 60 percent of convenience stores across the country. Owners Arif Jiwani and Ali Khan operate a warehouse in Decatur, GA where they distribute to wholesalers. Wyatt came on board four years ago to focus on retail orders, not only from gas stations and convenience stores, but also from cell phone retailers and other gift stores across the U.S. and Canada. The latest move is a new website, nuteldistributors.com, which includes wholesale online ordering, and customers can still order COD or by phone.
Top sellers

iPhone 5 and Samsung Galaxy accessories are the biggest sellers, from chargers to cases to screen protectors. Auxiliary cables, which work with any model and allow users to hook up their devices to the car radio, are a new and popular item. Nutel only stocks the latest products, so as soon as a new model comes out, they discontinue the accessories. "It's a constantly changing market, and you have to stay on top of it," Wyatt explains.
Buying details
A great way to get started is with Nutel's four-foot grid display rack for $425, which includes 125 hand-picked items. The markups on all the accessories can be quite high. For example, Samsung car chargers wholesale for $2.25 or less with a quantity discount, and retail starting at $7.99; iPhone cases, chargers, and travel chargers wholesale for 2.99, with retail as high as $14.99; and Samsung cases wholesale for $2.99, with suggested retail of $9.99. The auxiliary cables wholesale for $1.99 and can sell as high as $7.99 retail.
There is no minimum order, no shipping charges on quantity refills, and Nutel offers a money-back guarantee on all products. All customers have to do is call, and Nutel will send out a new product, or credit the account.
Nutel Distributors
6025 Sandy Springs Circle
Atlanta, GA 30328
Tel.: 678-825-8007 ext. 2
Web: www.nuteldistributors.com