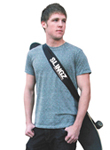 From Slingz LLC comes the SLINGZ, which is a unique, hands-free action sports strap for skateboards. The company says that nobody, not professional skateboarders, college students, or casual skaters, wants to lug around a skateboard when not in use. With the new SLINGZ skateboard strap, problem solved. The user attaches the strap to the skateboard, throws it over his shoulder, and he's on his way.
Slingz is made of 100 percent lightweight, RipStop Nylon, so the user can roll it up and fit it into the palm of his hand. The units are sized to fit to street style skateboards or long boards. The colors are black, camo and pink camo, and the strap can hold weights up to 85 pounds. Parents like the SLINGZ because the last thing they want is for their child to head off somewhere on their bicycle, holding a skateboard in one hand and steering the bicycle with the other. One reason this product is increasingly popular among young people and college students is that when they finish skateboarding and are heading off somewhere, they can throw the skateboard over their shoulder and are hands-free to text message.
Wholesale for the SLINGZ is $4.98, and retail is $9.95, the minimum order is 36 units. The company also has a countertop display that accommodates a dozen units. There is also a larger display that accommodates up to 36 units.
For more information:
Slingz LLC
3114 45th Street, Suite #3
West Palm Beach, FL 33407
Tel.: 480-201-7238
Website: www.slingzstore.com