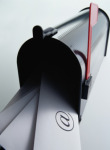 With the critical holiday shopping season fast approaching, small businesses need every advantage they can get to post a profit. And according to DirectMag.com, one of the best ways to do that is to undertake an aggressive e-mail marketing effort.
"E-mail marketing is no doubt one of the tools you plan to use to make this a merry Christmas season," DirectMag.com says. "If you're a relatively small business or fairly new to e-mail marketing, you might feel a bit overwhelmed at the prospect."
But they do offer some simple guidelines to help make the holiday a success. Among those guidelines are:
Take a step back and think through what you want to accomplish this holiday season.
Build an e-mail marketing plan for the season, from your customers' perspective.
Analyze the success of your campaigns and review how recipients are interacting with your e-mails.
The full list of suggestions can be found HERE.