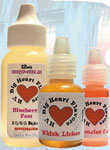 Electronic cigarettes, such as Hot Vapes' line of e-cigs, vapes, e-liquid, e-juice and accessories, are growing in popularity among current and former tobacco cigarette smokers. Hot Vapes' owner, Tim Roch, says his partner, Helen, picked up a cheap electronic cigarette kit in 2010, and although she was a lifelong smoker with no intention of quitting, after using the vapor kit for three months she kicked her tobacco habit. "I thought it was so cool that someone who enjoyed smoking so much could get to a point where she quit regular cigarettes," Roch stresses, "we talked about it and decided it would be a good business to be in."
The Hot Vapes product line ranges from a few disposables and starter kits to a wider selection of advanced hardware with more powerful batteries and heating elements. The company recently developed two new versions of the original electronic cigarette design, called mods, using updated lithium batteries. These mods last longer between recharges and provide a much richer vapor experience, and "vapers" get better flavor and throat hit than they would with a disposable device, according to Roch. Another product generating strong sales is the company's juice refills, called e-liquids. "E-liquids come in 60 different flavors, from tobacco to dessert, and are made using domestic ingredients. "Whether it's apple fritter liquid or a torpedo cartridge battery, you can trust what you're getting when it's Made in the USA," Roch notes.
Hot Vapes' website includes suggested retail prices, ranging from $20 to $100 for personal vaporizers, and $6 for vapor liquids. Wholesale prices start at 50 percent off retail prices, but the company offers volume discounts starting with a $500 tier, which earns an additional 10 percent off. There is no minimum order. A display of 40 pieces is currently available for $175, with individual pieces retailing for $9.99. "A discounted starter pack is available for $500, and that's perfect for those unfamiliar with electronic cigarettes," Roch points out.
While Hot Vapes doesn't have displays for all stock, they do have POP displays for the disposables. "Mostly what we see shop owners doing is putting our items in a glass display case," explains Roch. "They might have multiple cases in their shops, but many have devoted an entire case to our personal vaporizers." Hot Vapes will be at the ASD show in August at booth SL5381 for those looking to see these products up close.
For more information:
Hot Vapes
2630 West Evergreen #1W
Chicago, IL 60622
Tel.: 773-719-3718
Website: www.hotvapes.com