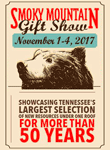 The Smoky Mountain Gift Show takes place at the Gatlinburg Convention Center, which is located in the heart of picturesque downtown Gatlinburg TN, putting you within walking distance of local dining options, charming shops and more. With the show's low hotel rates, November is the perfect time to plan your business vacation to Gatlinburg while enjoying the crisp mountain air, stunning views and marvelous fall foliage.
Shop the newest introductions and best-selling favorites in a casual, relaxed show environment. The Smoky Mountain Gift Show provides an unparalleled product selection including wholesale destination souvenirs, innovative resort and tourist merchandise, t-shirts, lake souvenirs, mountain and lodge merchandise, ski-themed products, logo products, shell items, jewelry and fashion accessories, toys, games and more. This year's show will feature more than 50 new exhibitors including Bear Paw Products, Dona Bels Shreds, Living, Country, Pine Designs, Coastal Sands, and Sign of the Times, just to name a few.
Networking Opportunities with Top Industry Groups
From chalet gatherings and show parties to mixers, you'll find plenty of opportunities to forge lasting business relationships. Representatives and members from all the top industry associations and organizations regularly attend, including the National Association of Retail Buyers (NARB), Zoo and Aquarium Buyers Group (ZAG), Living Legends and others. There are unlimited networking opportunities to grow your business. To connect with associations, exhibitors, and influencers, Amy Dufour, social media & marketing manager for Clarion UX, recommends utilizing the hashtag #smokymtgift. "Follow the show on Facebook, Instagram and Twitter so you don't miss out on any seminars, giveaways or must-see exhibitors," says Dufour.
ZAG Made in America Buying Tour
Also new for 2017, find even more Made in America resources this year on the curated buying tour, where you will visit vendors on the floor and learn tips and strategies to merchandise and sell these products in your store. Hosted by Zoo & Aquarium Buying Group, ZAG President Michael Davis and David Whitaker, retail director, NC Zoological Society will lead the curated buying tour on Thursday, November 2 and Friday, November 3 from 11 am to noon. For more information and to view their show preview, visit www.smokymtngiftshow.com.