By Mike Auger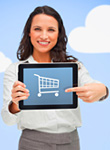 So, you are moving along with your business, and you do not have a lot of time. You certainly do not have time to follow all the news about social networks and mobile phones, you say. Well trust me, that is exactly what you must do. Before it is too late, take your head out of the sand and have your friends hold you upside down and shake you until every kernel of sand is out of your ears. All kidding aside, if you do not adjust to what is happening in off-site commerce, you will not remain competitive in the long-term.
Off-site commerce is simply any transaction that occurs off your primary ecommerce site. I coined the phrase a couple of years ago, as I began to witness the dynamic shifts social networks and smart phones are making on our personal lives. Once the networks or hardware have completely immersed our personal lives, the business side comes right along with it. What we are living through is a seismic shift in the way we consume and buy products and services.
Social and mcommerce use skyrocket
According to a June 2013 eMarketer report, nearly one in four people worldwide will use social networks this year. That represents 1.73 billion people. Forrester's mobile commerce report from June of 2011 predicts mobile commerce will reach $31 billion by 2016. If you combine one quarter of the world's population and $31 billion, you might realize the urgency of changing your tune. Let me break through all the noise with some simple steps you can take to utilize social networks and mobile commerce.
Forrester's mobile commerce report from June of 2011 predicts mobile commerce will reach $31 billion by 2016.
First, do not work with separate companies for your social strategy or a Facebook store. The same is true with mobile and tablet stores. Just say no to technologies and partners that add to the pile of systems you are already using to run your small business.  In a world where we are already pressed for time, make sure technology simplifies your business.
Build on your present ecommerce provider
Begin looking for social and mobile solutions with your current ecommerce provider. If you are on a system with any of the larger players in the industry, you should be able to get a Facebook and mobile store as part of the monthly fee you are currently paying. This may come as a surprise, but when you use a platform that offers Facebook and mobile, there is no additional work for you, or a learning curve. The work you do to select your design and add products simply transfers into the Facebook and mobile store. It literally is that simple.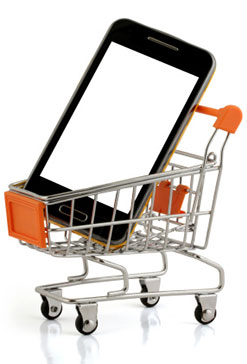 Additional time savings you get for using a provider with social and mobile services is the ease of use in processing the orders that now come from many different sources.  This is where the concept of off-site commerce really comes into play. You can sell through social channels like Facebook and mobile phones, and all the orders will come back to one central place for processing.  Imagine the difficulty in keeping track of inventory if you are using multiple systems. Tablet and QR codes are also part of the off-site commerce revolution. Distributing your products through sites like Amazon, eBay, Google and others is a huge trend in the off-site commerce world.
Data indicate that early adopters will see approximately 25 percent of their online sales come through off-site channels by the end of 2014. You cannot afford to wait.