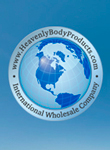 Since 1996, Heavenly Body Products and its affiliated companies have provided a one-stop-shop service to retailers interested in selling beauty supplies, air fresheners, and body oils. According to Sir Markadoo Haggins, Chief Marketing Officer, Heavenly Body Products specializes in providing the raw materials needed to create private label beauty supplies, as well as burning oils. "Our main product line includes burning oils, air fresheners, body oils, unscented lotions, bubble baths, shea butter, black soap, and electric oil burners," Haggins said.
Heavenly Body Products are perfect for any retailer who wants to offer private label products, ranging from convenience stores to beauty supply shops to barber shops. Most of Heavenly Body Products are sold in bulk quantities and come without any labeling.
Through his network of affiliated companies, Haggins says his businesses can also supply branding and labeling services for companies who would prefer to simply offer pre-formulated and branded products.
"We believe in small businesses," Haggins said. "It doesn't matter where they sell the products, we are a complete soup-to-nuts operation. We can handle supplying bulk ingredients, printing labels and shipping, supplying retail containers, and designing and supplying displays."
"A lot of retailers like to sell brands, while beauty salons and barber shops do more private labeling," he advises. To help retailers better understand his products and marketing in general, Haggins produces regular web broadcasts on Livestream.com, under the Sir Media Group channel.
Based in Georgia, Heavenly Body Products ships throughout the continental United States, as well as throughout the Caribbean.
How to Buy Products
Heavenly Body sells its products via its website or by phone. The company's bulk and raw products are supplied in wholesale quantities, without labels or retail-ready containers. Marketing and merchandising materials can be purchased from Heavenly Body's sister company, Heavenly Body Marketing (www.heavenlybodymarketing.com). There is a $50 minimum order from Heavenly Body Products. Most products are shipped within 24 hours of ordering.